Pressed Between The Patties Of My Mind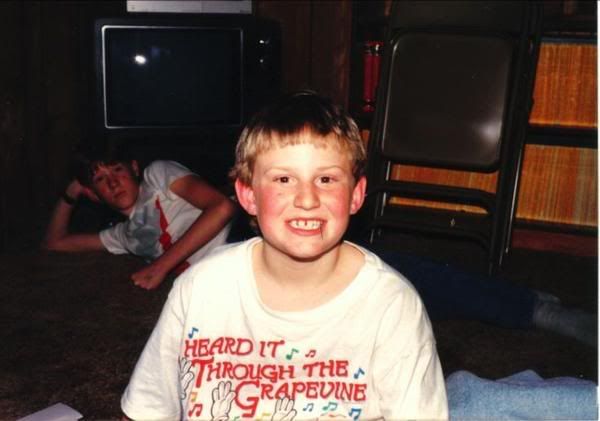 Just a few short days from the time I write this, your humble Burger Blog writer will be celebrating a birthday. The picture above was taken when I was about ten years old, and as you can tell from my sweaty, stretched-out California Raisins t-shirt, not only was I quite the adorable little butterball as a kid, I am clearly old enough to look back fondly at eras decades past.

I grew up in a simpler time. Mobile phones still required their own briefcase to carry, the fanciest car doors opened upwards and not out and Sylvester Stallone was the greatest actor in the world, having charmed us with "Rocky," "Rambo" and "Over the Top," which clearly lived up to its title.

To be a child in the 80's in America was to see the world as nothing but opportunity and prosperity. You could be a mediocre actor and still go on to become a mediocre President. Music was about being awesome, hair was big and both men and women could reveal their midriff and still fit in at a Skid Row concert. It was no longer "Mad Men"-chic to sip martinis at work, but to make up for it everybody was on cocaine. Truly, it was a fantastic time.

Then the 90's had to come along with its constant irony, flannel as a fashion statement and the internet, making it possible for people with the screen name "wookieslut778" to tell you why you're an idiot for liking "Batman and Robin" better than "Batman Forever," even though both movies seem to think people painted like neon Juggalos would be suitable villains.

And so, as I prepare to watch another drop of sand fall through the hourglass, I enjoy reminiscing about childhood. Also, I offically enter that last sentence into the running for "The Pretensy's," the annual awards system for recognizing the most pretentious sentences on the web.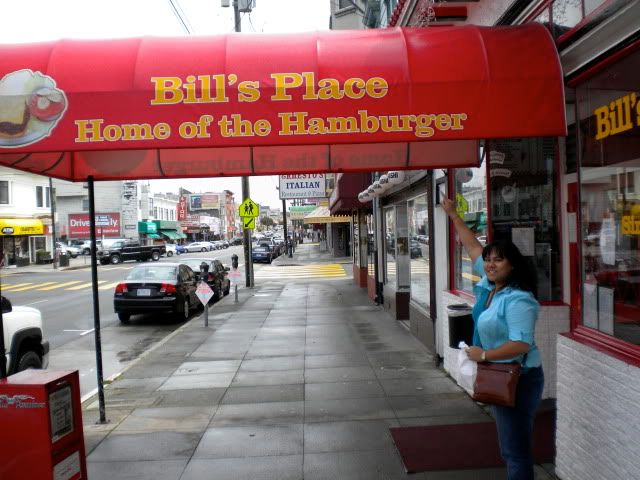 As it turned out, my sentimentality would pay off in our choice for our latest review at Bill's Place - a San Francisco burger joint that is celebrating 50 years of business. You won't find Bill's mentioned on many "Top Burger" lists in San Francisco in a Google search, but after seeing the clientele of Bill's, I doubt most people who frequent the place are smartphone-wielding, Twitter-happy netfiends. Actually, I think most people who know about Bill's probably remember when going to a movie involved tipping the piano player who played while Charlie Chaplin jitterbugged on the screen.

Bill's will never win any awards for Classiest Restaurant, Fanciest Decor or even having employees with an average age underneath 55-years-old, but they do feature one hell of a menu, some old-school charm and some really solid burgers.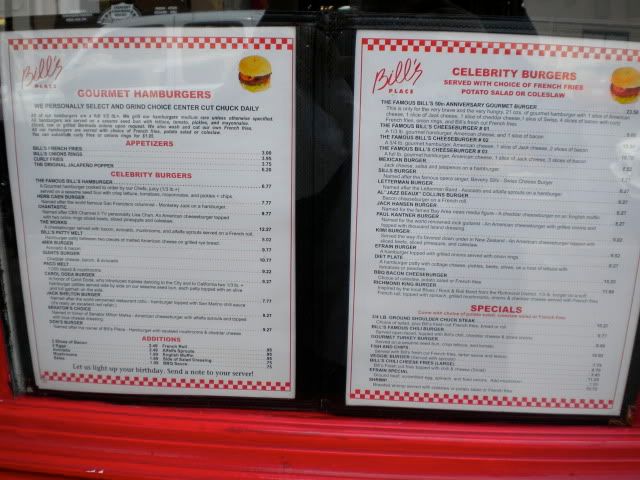 Above is a shot of the inside of Bill's menu, and almost all of that is specialty burgers. They've named them all after San Francisco celebrities, most of whom passed away before the price of a Cable Car ride rose above two bits and a hunk of charcoal-flavored blowing gum. The normal Bill's burger is a 1/3 lb., but you can very easily find yourself eyeing a 3/4 lb. burger, as James did, and they even have a special 50th anniversary burger that comes in at 21 ounces of meat, five slices of cheese, four slices of bacon, curly fries, onion rings AND Bill's homemade french fries. Not a single one of us dared to take on that behemoth, mostly because all of us had aspirations of engaging in other activities in the course of the day - like walking, breathing and not sweating while participating in rigorous activities like talking on the phone.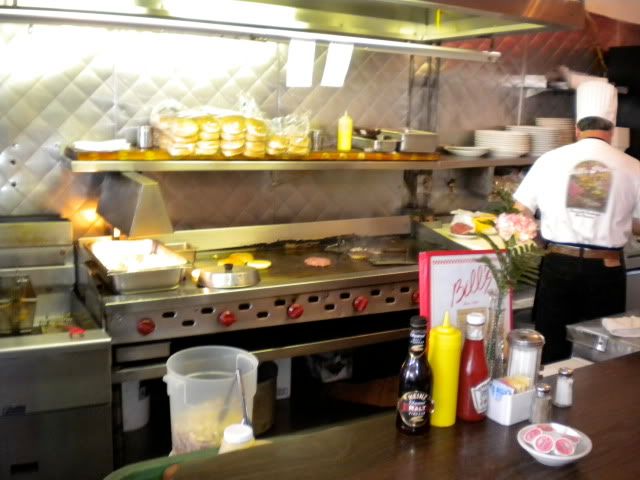 Just walking into Bill's Place is an experience, and one that I can imagine falls squarely into the Love-It-Or-Leave-It category. For our group, we loved it. Random Christmas decorations on the walls, chandeliers hanging over old tables and the long counter with the bolted-down stools…it was fantastic.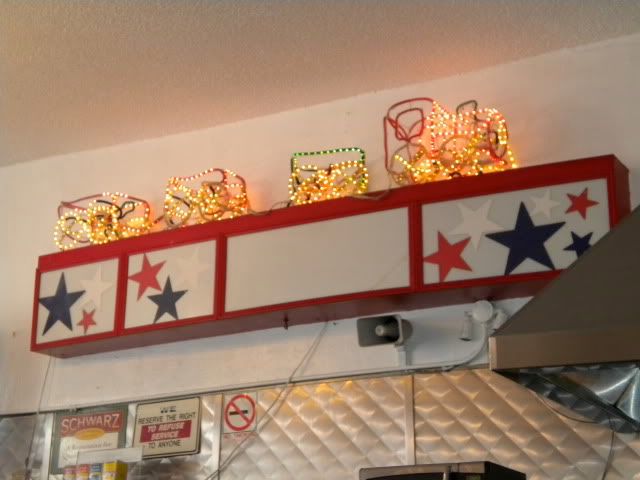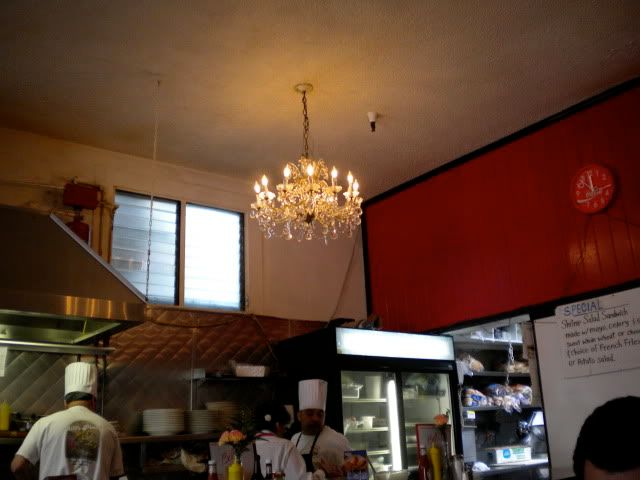 We all hunkered down, grabbed a menu and began pondering. Which burger defined us as a person? I'm not one to overanalyze a menu, but it took all of us a little longer than normal to come up with our selections. But our waitress was an efficient, quiet older woman who handled our prissiness without missing a beat. I'm sure I sounded like Dom Deluise as I ordered a burger, fries, onion rings AND the shake. Bill's shakes are supposed to be great, so they needed to be sampled. And sample we did.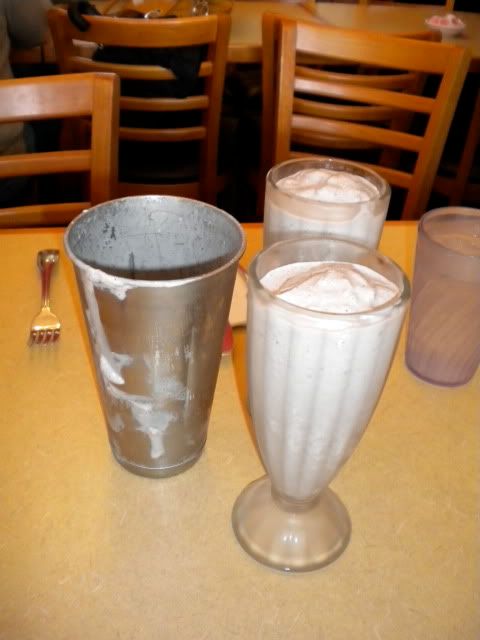 Our waitress recommended the cookie-flavored shake, and if there's anything an overweight man can't resist it's a beverage that mixes the flavors of rich dairy and cookies. It's the caloric equivalent of freebasing in a gutter. The shake was delicious, fresh and tasty. However, it does come out in the large metal mixing container, which can be dangerous if you're not being careful about consuming it. More on that shortly.

In the meantime, time to make with the hot slabs of beef-on-bun action. Roll that beautiful meat footage…




This is James' burger, Bill's Famous Cheeseburger #2. While I don't imagine anybody who reads this blog is perusing the burger pictures while running on a treadmill, if you aren't already propped up in a chair or leaning back on a couch with your laptop on your belly, you better sit down before I lay out the description.

Ready? Okay, here we go - a total of 3/4 lb. of meat in two patties. One slice of American cheese, one of Jack. Two strips of bacon. Comes with the fries. Ye gods. Once again James stepped up to the plate and hit it out of the park. While others are happy to single with a 1/3 lb., or maybe double with a bacon cheeseburger, James goes the extra step for glory, and later on that day his stomach experienced what can only be the gastronomical version of the movie "300" in his tummy. Tonight we dine in hell - or at least call it good to pop some Tums and just have a glass of water.




Marci opted for the 49'er burger - a 1/3 pounder topped with bacon and avocado, and she also chose to have it on an English Muffin. I'm not exactly sure why, but we all have suspicions that Marci spends her weekends at Renaissance fairs, playing the lute and urging guys in cardboard knight costumes to slay dragons.




Joe opted for the Giants burger, which is also a 1/3 lb. patty with avocado and bacon - but a slice of cheddar added on top of it. Bill's manages to have their cheeseburgers achieve that wonderful gooey texture with the cheese, where it's melted just right and beginning to ooze over the edges of the burger.

Bill's also grinds their own meat daily, not to mention chops up their own fries. The fries come standard with the burgers, although you can also choose the potato salad or cole slaw. The most expensive burger we ordered that day was James', but that still only came in at just over $13, which is still less than I've paid for a martini at an upscale bar in downtown San Francisco. Although that may have been the bartender just trying to take advantage of me. That's what I get for walking in without a shirt.




Chris saddled up for the Paul Kantner, named after the guitarist and cofounder of the Jefferson Airplane. It's a cheeseburger topped with grilled onions and Thousand Island dressing. As anybody would hope with a burger named after a seminal psychadelic band, the burger encouraged Chris to tune in and drop out, although after about half the burger Chris realized he had a problem with pills, then he pulled the ultimate sellout move and wrote a song called "We Manufactured This Urban Living Center…" which may have been a hit initially, but he later regretted it. Look for Chris to be touring state fairs this summer, filling old fans with disappointment just by using the phrase, "this next one's off our new album…"




Leila got the Al "Jazz Beaux" Collins burger - a bacon cheeseburger on a kaiser roll, and she got the grilled onions on top of it. Al Collins is perhaps best known for his "We don't need no stinkin' badges" routine, but most people under the age of 60 probably don't remember it. Hell, most of the people ABOVE the age of 60 probably don't remember it anymore. Just reading the Bill's menu is a trip back in time and through San Francisco history, and I think just about everybody named on the menu made their last appearance in a newspaper when they died - most likely in that mystical era where Bill Clinton blowjob jokes were still hilarious, back in the dark and spooky mid-90's.




I got the Carol Doda burger, named after the woman who introduced topless dancing to the city. It's two 1/3 lb. patties served open-faced on a bun, with two olives placed in the middle of the burgers in a coy reference to ladyparts. In a testament to my age, I believe I was more turned on by the appearance of this burger than anything I witnessed the last time I found myself in a "gentleman's" club. Of course, in those joints a lady named Toyota or Candygram tries to convince you to fork over wads of twenties so she'll pretend to like you, whereas in this case for slightly less than ten bucks I got 2/3 of a pound of meat and fries. I did miss the soundtrack of Motley Crue and the scent of desperation in the air, but I didn't have to sit next to any sad, sweaty men who occasionally get up to call their credit card company in an effort to get a line of credit to help pay for Sharondae's "law school tuition," aka her boyfriend Tutter's metal band demo sessions.




George went the way he has since before the allies defeated the Kaiser - regular burger, no cheese, bowl of chili to start. George also put on quite the show for us of general human neediness…first, asking for his glass of water to be replaced with one without ice. Then, chili with no cheese, with a dish of extra diced onions. Then extra napkins, followed by a request for some extra pickles. The dude had quite the array of small dishes and plates around him by the time the meal was over…




No matter what George threw at her, our waitress responded with steely, cold efficiency - she was no spring chicken, and if Bill's Place were an 80's action movie she would be the grizzled, experienced cop telling the young rookie who ignores the rules that she is getting much too old for this s***.

It would also be underplaying it to say that George arrived for the meal in a bit of a testy mood. Shortly after we all dug into our burgers, George spilled some goo on his nice shirt, which made him even more angry. Being a jerk, I laughed at his anger until my wife pointed out that I had also spilled - a huge amount of milkshake all over my white shirt. So suddenly George was united with King Dumbypants of Spillytown, we had a good laugh and life went on.




In fact, from that point on we were all in a pretty good mood. The burgers were handformed, the fries were great, and the onion rings were delectable.




So, without any further ado, let's move onto our typically scientific, well-researched and always accurate ratings system for Bill's. If you're new to the Burger Blog, it goes like this: we judge based on whatever we want and whatever we feel like discussing at the time. Like I said - scientific!

In honor of Bill's dedication to the old school, we'll try to keep it on an old-timey ratings style.

Qualitey Of Bovine Meats: Not only does Bill's grind their own meat daily, they do hand-formed patties. Despite this, they all came out pretty uniform. They were also cooked to order like crazy - here's a shot of George's medium-rare burger. Notice that despite the thinness of the burger, there's still traces of pink inside. That's the work of one hell of a grill man.




We were all very happy with our burgers, and George said he believed it was the best quality beef we've encountered so far. Not all of us agreed with that statement, but the beef is up there among the best we've had.

Final Beef Score: They get 56 hula hoops out of 59.

Potato And Sidey Goodness, Like Grandma Used To Make: C'mon - Bill's chops their own fries. We didn't ask about the onion rings, but if they're frozen I couldn't tell, and they rank up there with the Bullshead and Mo's rings from earlier trips. The fries were my personal favorite of all the joints so far, and everybody else was really happy with them.




You'd have a really hard time making an argument against the Bill's fries, and if it came to words I'd be happy to give you a raspberry on the old coconut before the constabulary rang about and carried us to the stoney lonely. In other words, the carbrifficliciousness at Bill's is pretty great.

Heartiness of Additional Fooderies: four well-dressed gentleman at the Explorer's Club out of five. I'm only taking off a single point because some of the onion rings tasted a little overdone.




Quality of Establishment, Serviceness: I can totally see how some people would walk into Bill's, or simply look in from the window, and say something like "I'm not eating in there. Yuck." Those people would be the types of douchebags who think quality restaurants have to cost a billion dollars to be good, should have shiny lights and dance music blaring and that your waiter should be named either Stefan or Lucas G., and he should sigh judgingly at everything you say.

Bill's is the kind of place you don't really find in San Francisco anymore. Hell, you can't find this type of place in most of America anymore. Bill's has been doing things their way for fifty years, and they'll be damned if they're changing anything. For that alone, I appreciate their moxie.

Our waitress was also an older lady who approached our table with a no-nonsense style and couldn't be shaken by our requests or questions. She had no need to look at the menu or for any reminders, and even when I thought she'd forgotten an order of onion rings, she just reached back to the counter, grabbed the already-finished order and slid them in front of me without a comment. She knew they were coming. Shut up, and they'll get you taken care of.

Again, I can totally understand how some people wouldn't like Bill's. I disagree with those people, but they're entitled to their opinion.

Atmospherioty and Waitressmitude: Fourteen wagon wheels out of seventeen.




Final Outcome: More than once (probably waaay more than once, sorry guys) I mentioned that these burgers and fries took me back to eating dinner on a Saturday night as a kid with my Baptist grandparents in the small town I grew up in in Michigan. I also happened to spend quite a bit of time at a bowling alley my parents managed when I was very young, and the kitchen there did the fries almost exactly like the ones at Bill's.

Whether due to sentimentality, great food or a combination of the two, I loved it. Bill's isn't the best place we've eaten so far - but it's good. And it's worth the time of any burger lover in San Francisco. Seriously - in a decade or so, every place like Bill's will be gone, replaced by postmodern architecture, flatscreen TV's blaring ads disguised as music videos and WiFi blanketing every corner of the galaxy as we all ignore the people we're with to see what's happening on Facebook, Twitter, Fartspace, GlippleGorp or whatever the hell comes next.

Bill's is very much a trip back in time, and it's one that doesn't require a DeLorean, a crazy old professor or running away from 50's-style bullies who are also trying to molest your mother, who happens to be trying to molest you. And yes, that movie seems really twisted when you describe it that way.

So - Totally Recommended!

Once again, thanks to everybody for reading. We always appreciate the comments and e-mails, and we're glad people seem to be enjoying the Facebook and Twitter accounts. If you enjoy the blog, please tell a friend!

In the meantime, we'll see you for the next burger review. Thanks again, everybody! Now, does anybody know a good dry cleaner who can remove a half-gallon of milkshake out of a white shirt?