Two-Place Vs. Dangly-Feet Man In "My Burger, My Life!"


In this tumultuous world filled with war, sickness and the never-ending sadness parade that is "The Marriage Ref," we here at Northern California's 3rd favorite hamburger-centric blog are proud to present another review, barely a week after our last one went to print. And why wouldn't we? It's been a nice couple of weeks here at Burger Blog headquarters.

First up, early last week some random posters on Craigslist took it upon themselves to put up links to the site, calling it funny and entertaining. Craigslist, as anybody who has ever perused it will know, is typically home to only abject racism, unbridled sexism, illicit gay sex and "massage therapists" whose idea of a Happy Ending involves drugging their client, dragging them to a plastic-lined room and strapping them to a table with Saran Wrap so they can have a dramatic conversation about being "Cthulu's Fist of Destruction." Well, it turns out all those racist sexist sociopaths trolling for anonymous power-bottoms really work up an appetite, and they came back in droves! Thanks, Craigslisters!

On top of that, George got recognized on the street for the blog. He was minding his own business in his neighborhood, wearing a bright pink t-shirt with neon lettering proclaiming, "YES, I AM ON THE BURGER BLOG!" and handing out copies of the last review he'd printed out at Kinko's when somebody walked up and asked, "aren't you on the Burger Blog?"

Actually, he was just running some errands and minding his own business when a person he never met before asked him if he "ate hamburgers and people took pictures of him." And indeed, he does. And indeed, we do! And with that, let's move forward with more eating of hamburgers and taking pictures of it.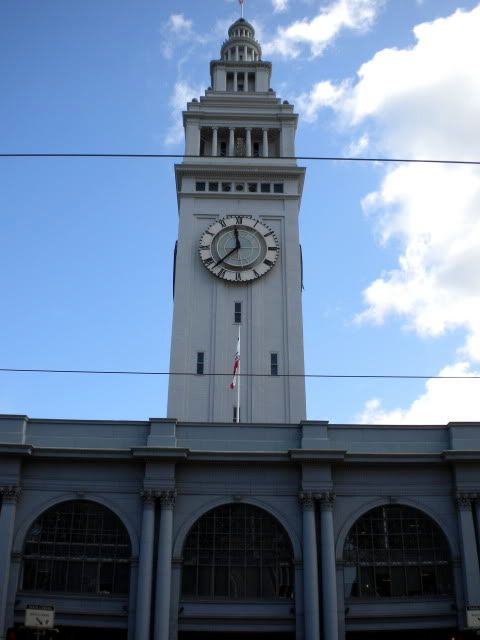 For our most recent adventure we trekked our way towards the Ferry Building in San Francisco. Once a major commute hub, the building has transitioned more into being a foodie capital. Have you ever wanted to try a cone filled with different cuts of pork? Or try five types of caviar at once? Or spend $13 on a cupcake? The Ferry Building can take that sunrise and sprinkle it with dew, friends!

The Ferry Building is also home to a Farmer's Market that occurs multiple times each week. In addition to the standard booths featuring people with names like "Rasta Sun" selling you jars of syrup they collected while tripping on Black Beauties, the markets also feature multiple food stands cooking grub on the street that is so good people will line up for it. And, you can also see crazy people dressed like vikings! What's that? You desire photographic evidence? So let it be written, so let it be done…

Exhibit A: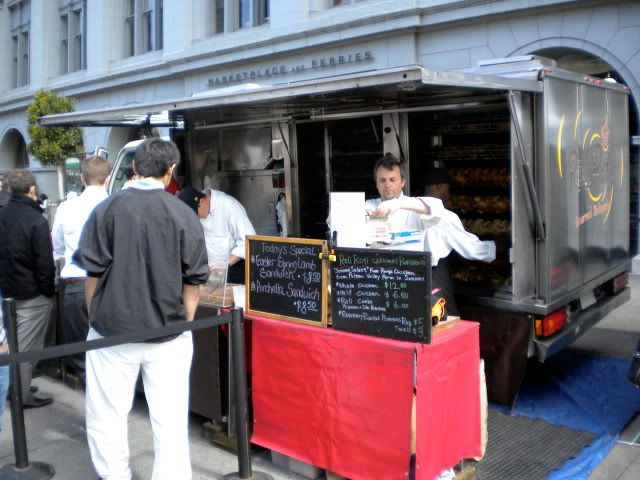 And Exhibit B: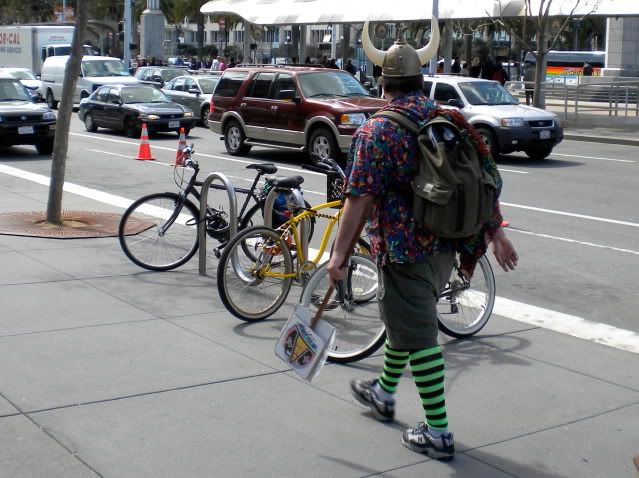 But we weren't there to stand in line for chicken (although it is delicious) or clothe ourselves in the best in crazy person finery - we were there for burgers. Located at the North end of the Ferry Building is a restaurant formerly known as Taylor's, but now known by the name Gott's. The place has long been a staple for the hungry lunch crowd wandering in from the nearby financial district and has a pretty large menu of salads, sandwiches, seafood and soup. And of course, burgers. Since the name change and new ownership, it appears the menu has remained pretty much the same as when it was Taylor's, and we decided it was time to give them a day in burger court.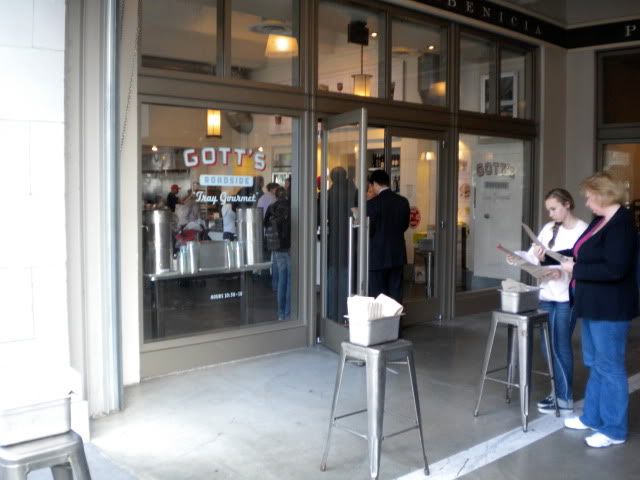 Gott's is a pretty popular lunch destination. The picture above was taken around 11:20 a.m., because we Burger Bloggers don't stand in long lines, as they are for poor people. But be aware; if you go around 12:15 p.m. be ready to do some waiting. They put out menus for you to peruse as you wait so you can be ready to pull the trigger when you get to the counter, and Gott's calls itself "Tray Gourmet" - it's a cafeteria-style place where you order at the register, get one of those flashy-light robot boxes that explodes like a 3-year-old with a crate of sugar inside them when your order is ready and you find seating wherever you can manage. But the food is pretty solid - when the suggestion of the place came up, Chris even noted that he'd eaten there multiple times and that the burgers looked good, but that he'd never bothered to try them because the Ahi Tuna Burger was fantastic and that's what he always ordered.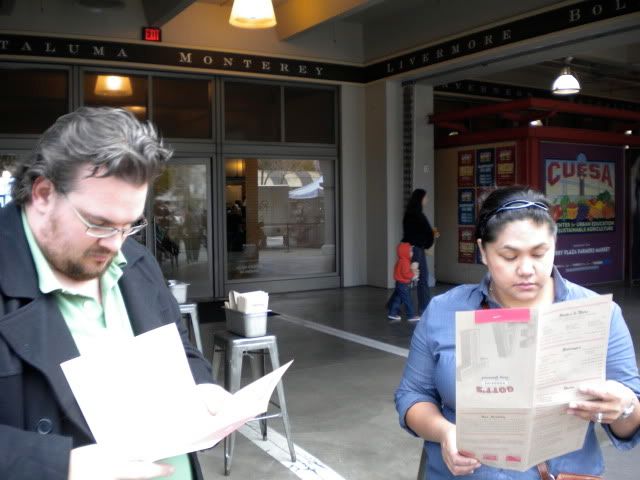 It took us all a few minutes to come to a decision. Chris was tempted by the burgers with bleu cheese involved, then he remembered that at Urbun Burger he'd tackled enough of it to turn his heart valves into a sampler platter for an upscale wine tasting. Leila contemplated trying the Ahi Tuna Burger that Chris was so fond of, but we told her to pull up her bloomers and order some beef before we forced her into hand-to-hand combat with a rabid hobo somewhere in the Haight. We have rules, dammit.




We made our choices and grabbed a seat outside. Gott's has some indoor seating as well, which was already pretty packed by 11:30 a.m. on the day we made our trip, but they also have a ton of outdoor seating. And one of the best parts of eating at the Ferry Building is the view - it's a pretty picturesque spot. Whereas in the Mission you may only get to see random hipsters walking by or weirdos selling bootleg DVD porn, while dining here you get to sit on the Embarcadero and enjoy views like this: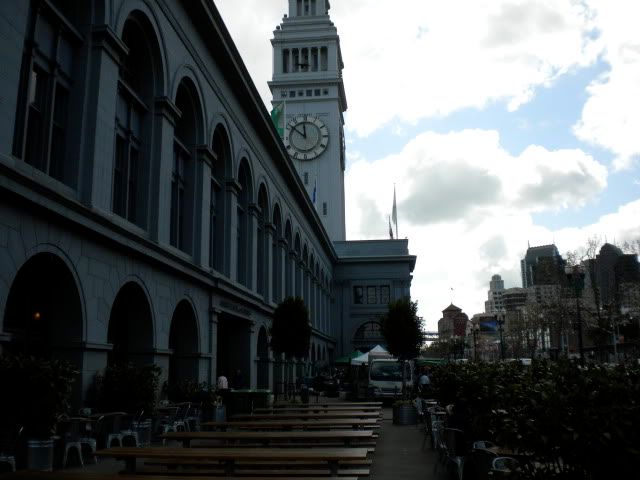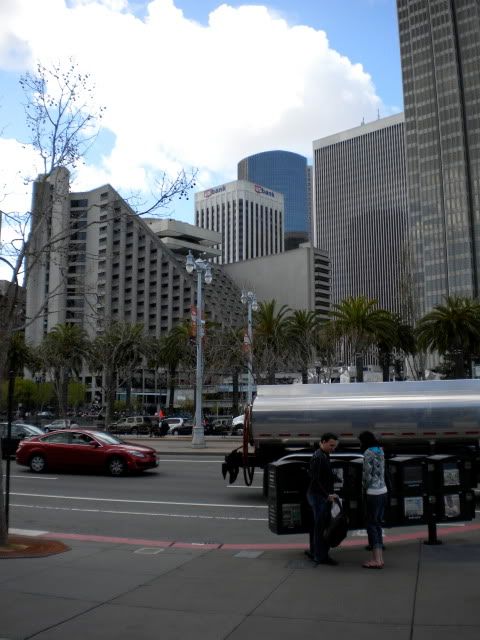 We all hunkered up to a table outside and enjoyed our beverages. George was the only one to have any alcohol, although he maintained his street cred by going with a can of Pabst Blue Ribbon, the beer of choice for awesome dudes with rad attitudes! Gott's has a pretty solid selection of beer and wine available, along with the typical sodas and quite a menu of shakes - and for a little bit extra they'll even drop some cookies in it for you. Because while dreamers may wait for things to come to them, the real go-getters make diabetes happen for themselves.

Another great part about sitting outside is that on the bench he was sitting at, George's feet couldn't reach the ground. He is by no means tiny or Smurfish in his general outward appearance, but when you see a grown man whose feet dangle from his seat like a toddler on a toilet, you can't help but want to snuggle him with a Spongebob blanket. Even Leila's feet touched the ground, and she's Filipino - a race known for their skill at Limbo contests.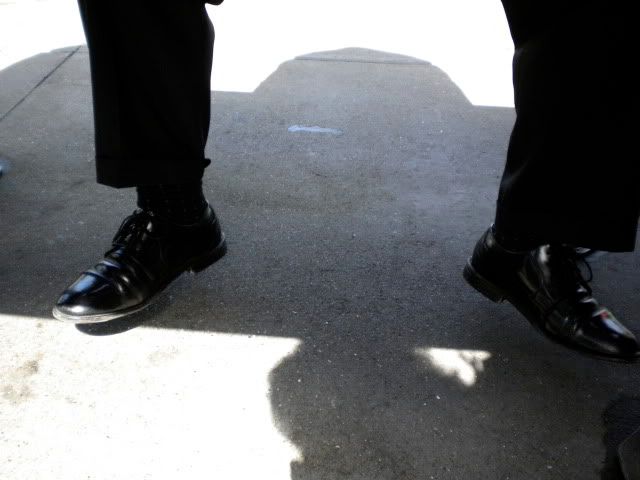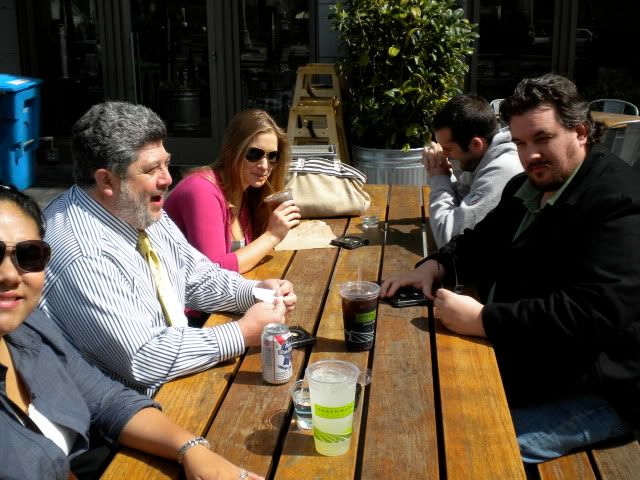 And finally, time to unleash the burger porn upon the world. Prepare thyselves, Burger Blog readers. These are enough to transform an anorexic woman into John Goodman…




Leila went with the Blue Cheese Burger - topped with a pile of crumbled blue cheese, lettuce, pickles and the "secret sauce" on a toasted egg bun. The garlic fries are so garlic-y that, yes, they come out tinted green, like the Incredible Hulk of potato options. And instead of the patty-o-cheese we witnessed at our last review, this one came with the cheese actually crumbled.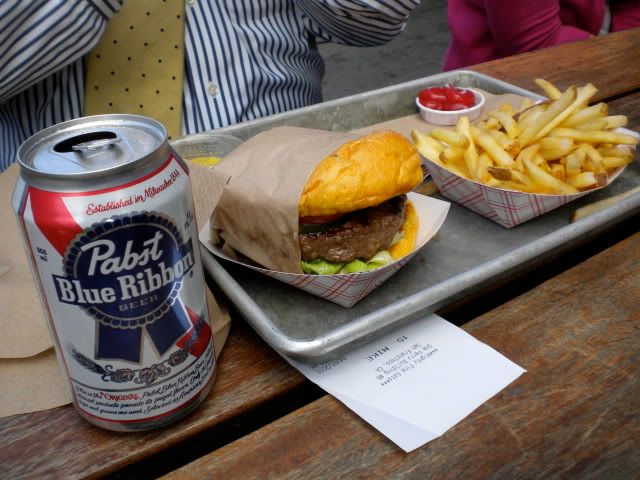 George went with his usual - the standard burger, sans extra toppings - some lettuce, onion and tomato, maybe some ketchup and mustard. He went with regular fries with a little vinegar on top, and he said they were pretty tasty. And as you can see, all washed down with a frosty PBR. This paragraph makes George sound like your 113-year-old Uncle Bosephus in Nebraska, doesn't it?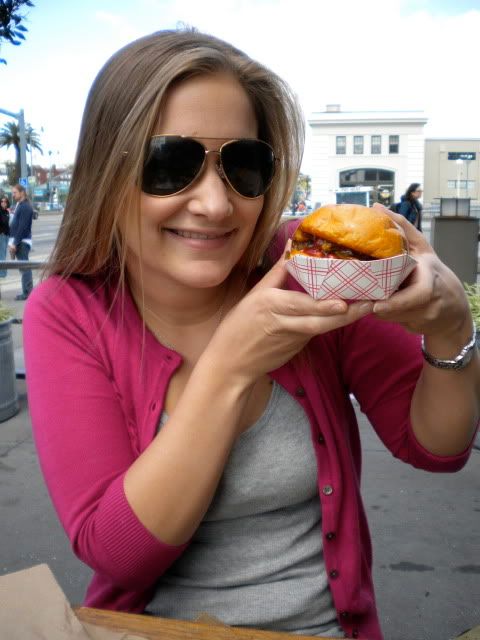 Here's Marci with her Wisconsin Sourdough burger - griddled mushrooms, bacon, cheddar cheese, mayo and barbeque sauce. It typically does come on a sourdough bun, but Marci opted for the regular toasted egg bun. And yes - after weeks of avoiding it, Marci enjoyed her first burger review so much she has opted to join the team! Not only that, but Marci was the first one to finish her burger - which by Burger Blog law means you're required to join. We put her through the initiation and she's now a member, complete with ID card and knowledge of the secret handshake. (hint: the secret handshake involves greasy hands)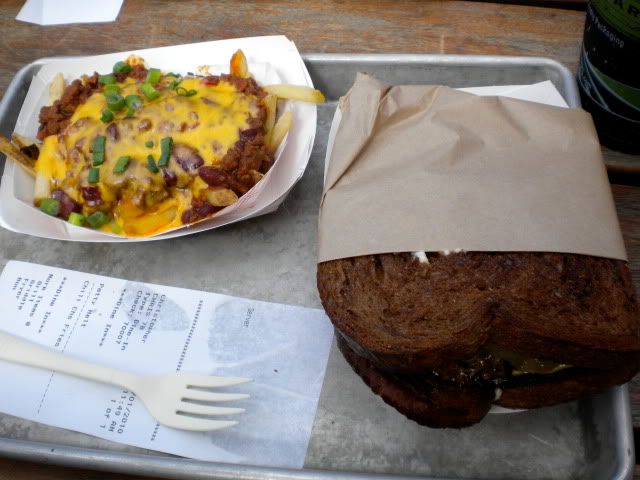 Above is Chris' Patty Melt - swiss cheese, griddled onions, mayo and dijon mustard on a toasted rye. And yes, he went with the chili cheese fries as his side, and yes - they were awesome. Housemade chili, cheddar cheese and green onions. Well done, Gott's. I believe this is the first time we've had chili fries included in our review, and they were a good inaugural run.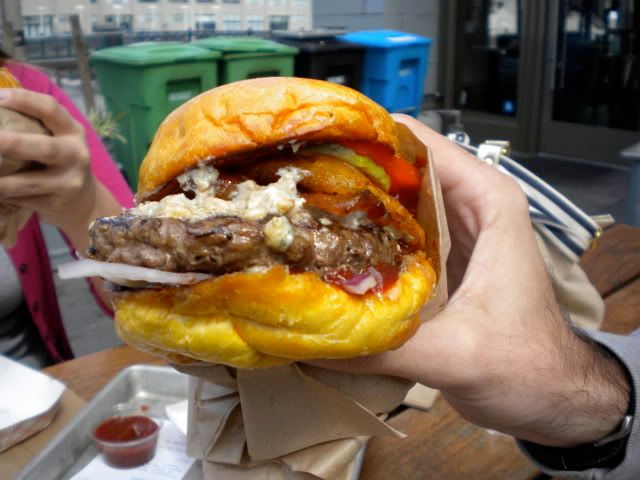 Here's Joe's Western Bacon Blue Ring burger - topped with an onion ring, crumbled blue cheese, bacon, pickles, red onion and barbeque sauce on their standard egg bun. When Joe first took a look at the menu, he quickly exclaimed, "Has anybody taken the Western Bacon Blue Ring one yet?!? I'll do it!!" In short, Joe was excited to try this burger. For Lent Joe has been abstaining from whiskey, so he's had to work overtime to find harmful things to put into his body. Seriously, Joe likes to drink whiskey like an Italian Kennedy. However, a few bites of this burger and he felt his need to guzzle the sweet brown goodness subside. For at least a couple of hours.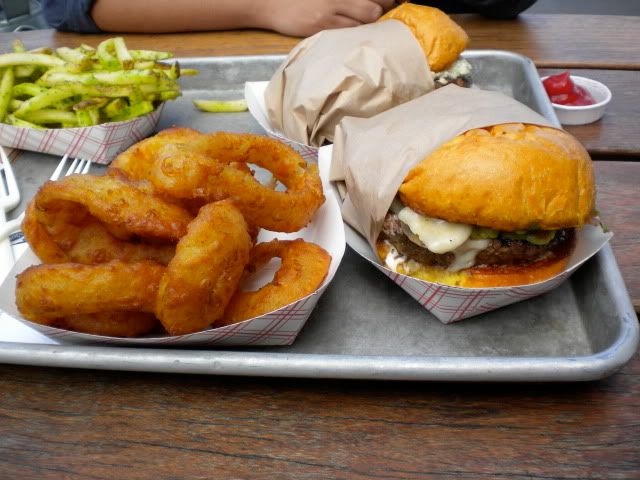 And finally, my choice for the day - the Texas Burger, with Jack cheese, fresh guacamole, salsa, mayo and pickled jalapenos on the egg bun. For the first time in Buger Blog history, I managed to make a choice that didn't involve adding a pork product on the top of my burger. And of course, we have to try the onion rings at every place we can. The burger had a nice amount of bite and spice to it, the guac was pretty fresh and while I did have to pause a few times to adjust to the spiciness, it was nothing I couldn't handle. I am, after all, a firey Latina woman who splits her time between turning the beat around and loving to hear percussion.

In all fairness, we had been expecting Gott's to fall squarely in the circle of mediocrity, but when our food started coming up we all got excited. Imagine expecting to see "Alvin and the Chipmunks," but then the lights go down and the title card comes up and instead it's "Alvin and the Chipmunks 2: Chipmunk Harder." Yes, we were actually that excited. Because while "AatC 1" (as we hardcore chimpunkians know it) was pretty awesome, "AatC 2: The Quest For Curly's Gold" is totally epic. And that's what we all thought of our burger choices. We dove in, and the results were good.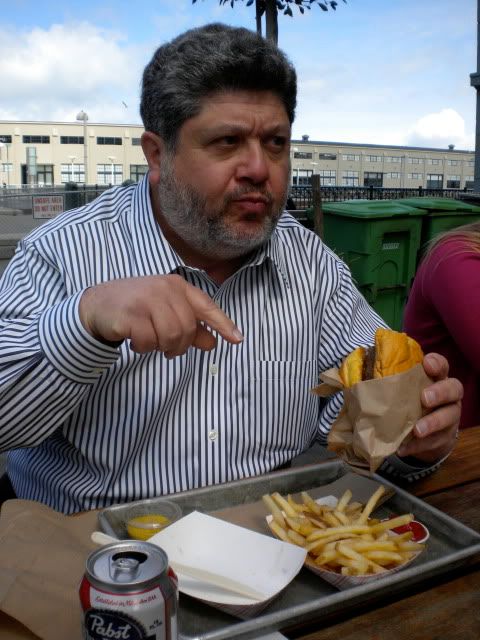 George was very happy with his burger and the preparation. Gott's grinds their meat fresh daily and serves vegetarian fed beef with no antibiotics or growth hormones. They do a standard medium-well burger unless you ask otherwise. Also, if you want tomato on your burger you've gotta ask for it. George said it was due to bad weather hurting the tomato crop, but as always I blame the Irish.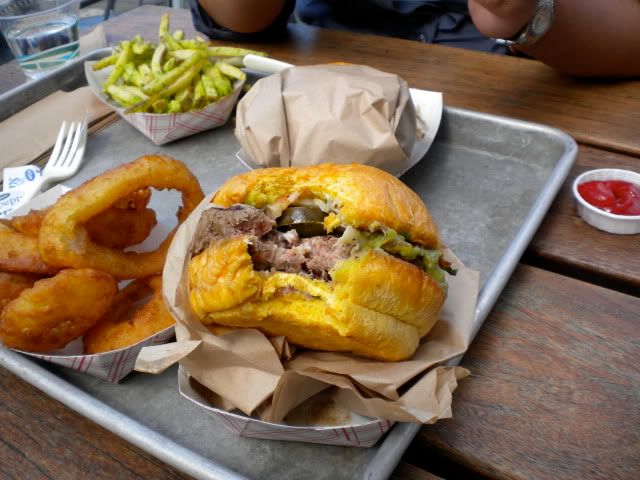 I went with their normal preparation on my Texas Burger and was still pretty happy. I'm normally a Medium-Rare kinda guy, but the beef quality was solid enough - not to mention the toppings on my burger spicy enough - that I didn't notice if it was too cooked for my tastes. While not typically a fan of many things Texan - cowboy boots, pollution and firing pistols in the air to celebrate getting your G.E.D. - this burger was a right purty slab of beef.

Beef Quality, or Qualibeefity: I honestly don't know the size they do at Gott's, but I know it's not a 1/2 pounder. If I had to guess, I'd say it's a 1/3 lb. patty. The size was just about perfect for lunch, and the beef itself is really solid. They do offer a double cheeseburger, but whomever chooses that option would have to be a beast of a man. Or a Yeti that wandered in from the hills and hungers for flesh and somehow understands exchanging money for goods or services. In order to assign some sort of number value to the beef, let's give it 14 "Moo's" out of 15. You did it, Gott's!




Starchosity: Everybody was really happy with their side orders. Leila really liked the garlic fries, and they were nice and garlic-y without being overpowering. George was also happy with his regular fries, and he did drop a little vinegar on them to embrace his inner Canadian, eh. Somewhere inside that man is a mulleted 33-year-old gas station attendant who only wears hockey jerseys.

Chris was pretty satisfied by the chili fries, and they were gooey and magically delicious. And Joe, Marci and myself all really liked the onion rings.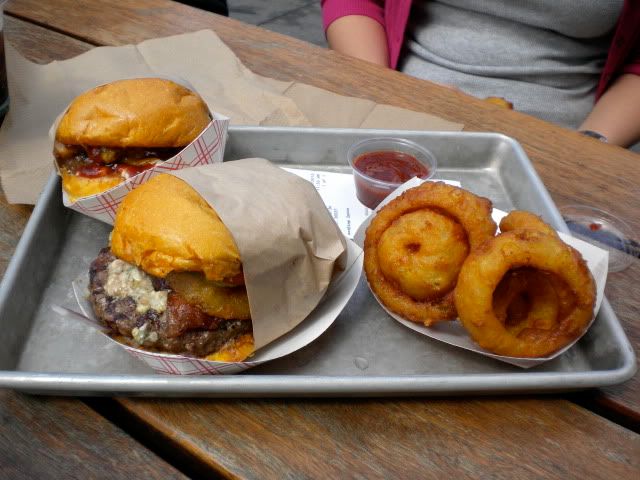 A friend from our Facebook page noted when I posted this picture a few days ago that the onion rings appear to be 99 percent batter and onion flavoring - in other words, perfect. They are definitely tasty, although the slices of onion inside are also pretty hefty. These things are basically big giant scrumptious rings of oniony goodness - i.e. a basket of rings to rule them all, or at least make me impossible to be around within 90 minutes of eating them. We couldn't verify that they make them fresh, but if they were frozen then they're among the best frozen rings we've ever come across. I award them 67 Carbtastic Points out of a possible 72.4.

Greasinessosity: After our last grease bomb batch of burgers, going slightly less on the grease quotient was something we were all up for. Gott's managed to toe that fine line between greasy and tasty, and although the burgers did get a little sloppy they weren't overly messy.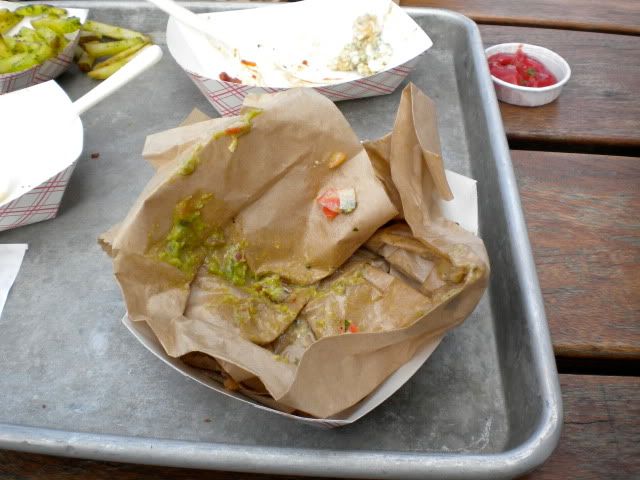 An extra bonus for wrapping the burgers in a bit of brown paper - it helps to keep your hands from becoming totally sloppy, and it's a nice touch to the presentation on top of it. Even a super-messy burger concoction like the Texas Burger only required a few napkins to clean my hands back up. Also, being able to see the paper become clear in front of your eyes reminds you to quaff deeply of life, because eating like this isn't going to earn you any world records for longevity.

Don't Know What You Got Till It's Gone: The after-affects of our last burger were pretty bad…too much burger, too much grease and most of us spent the rest of the day trying to sleep off the mess we'd created in our lower intestines. After eating at Gott's, not only could you actually function like a normal human being, you could conceivably do so with only a bare minimum of meat-sweating, digestion-burping or general desire to sneak under your desk and nap the day away. This is a great lunch burger, unless you enjoy spending 1-5 p.m. oozing dead cow out of your pores. Outcome: 44 percent nap-inducing. You could definitely find a way to convince yourself to hibernate for an hour or two following these things, but you could also keep moving and be a productive member of society, if you're into that sort of thing.

Presenting: Yes, it's a cafeteria-style lunch stop, but it's a really good one. The place is clean, the line moves pretty fast and they even give you that big metal tray, instead of a cruddy plastic one like when you were in middle school. So instead of pretending you're back to being 12-years-old, covered in acne and wondering if anybody likes you enough to push their greasy face against yours, you can pretend you're in a prison movie that takes place in 1948. I say go all the way and start a fight at your table and possibly sexually assault someone of the same sex while you're at it.




By the time we were all wrapped up with our burgers, we noticed a couple of things. (A), we all ate our burgers hellaciously fast because we were enjoying them so much. And (B), all of us were really happy with our burgers.

Marci said hers was one of the best she'd eaten in her entire life. George loved his, and Chris said while he wasn't completely happy with his patty melt, the fault was his own - he didn't specify medium-rare when he ordered and he would have preferred a different cheese choice.

Final outcome: Totally recommended. We didn't expect it, but Gott's at the Ferry Building really managed to go above and beyond. And it was also a nice touch to be able to function and move around afterwards; a few of us wandered through the Ferry Building, sampling stuff and getting some awesome stuff for later.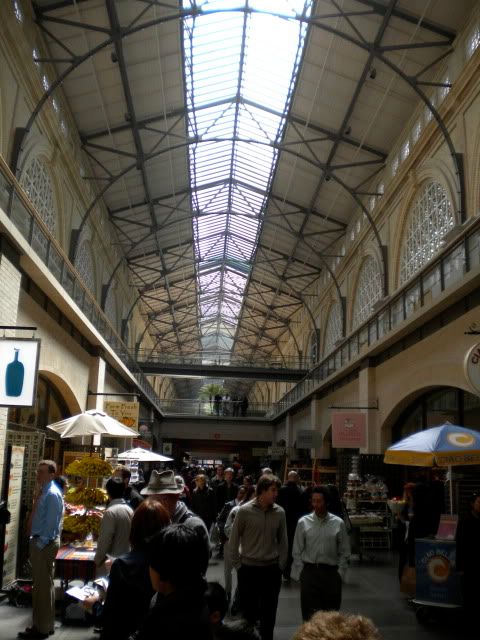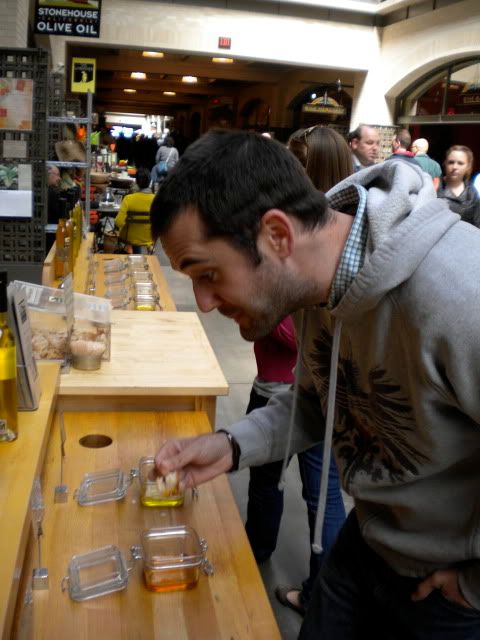 And another quick note: readers of the Blog may have noticed that James was absent from this episode. Sadly, James was injured during an underground boxing match. You see, in his free time James is known as El Tigre Loco in the basement mixed-martial arts circles around Antioch, California. During a match with infamous fighter The Incredible Rooster, James slipped during a roundhouse kick and sprained his ankle. He plans to be back for the next trip, and we'll be happy to see him.

Thanks again to all of you who have been becoming fans on Facebook, following us on Twitter and sending us messages, e-mails and tweets with suggestions. Well, to that one guy who said we should review McDonald's: you shut up. But the rest of you, thanks a lot. We really do appreciate it. If you're interested in joining us on Facebook and Twitter, there are links and info on the side underneath the profiles. See you next time!