Burger II: Electric Burgerloo
It's been an exciting few days here at the San Francisco Burger Blog. Firsties, the blood tests came back negative! Hooray! Look out, Folsom Street Fair!

Also, we've gotten a great reaction from the blog itself. Literally DOZENS of people are visiting and enjoying our first adventure, and even fewer of you have somehow tracked down my e-mail to send along suggestions and the criteria you use when you judge a burger. The e-mail thing was a little surprising, since until yesterday there were no links or further identification of who was writing this thing or who the hell we were. So, good work, creepy internet detectives!

But, in the spirit of keeping things open and serving our readers, if you want to get in touch drop me a line here:

drieuxharmon@yahoo.com

I am the defacto webmaster, I suppose, since I have the greatest accumulation of geekiness, free time and ability to type with greasy fingers. Reach for the stars, kids.

We are indeed planning our next trip to the promised land of red meat, and while we're independent ladies who don't need no man to pay our bills (holla, girls!) we do like the feedback and suggestions, and we're taking that into account.

With all that in mind, here's our list of options for the next review.

Joe's Cable Car


Joe's is an old diner-y spot in the city that all burger fans in the Bay Area eventually stop at. It's been featured on numerous travel shows, and if you encounter a fan of the place and mention you haven't gone, they behave like that pretentious nerd you knew in college when you say you've never seen "The Third Man," in other words freaking out and acting like you've never breathed oxygen, known true freedom or farted in bed and then used the covers to force your spouse to inhale deeply of your love-fumes.

PROS: They grind their own beef daily, which is pretty cool. The place is also named "Joe's," and one of our members is named Joe, so already I can plan out a whole ton of pictures with Joe making funny faces and pointing at things with his name on them. Case in point: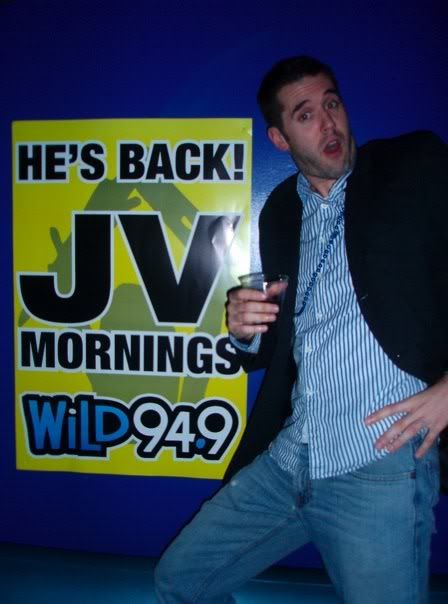 So it's got THAT going for it.

CONS: The old dude who runs the place is supposedly a control-freak whose high levels of anal-osity regularly drive waiters and waitresses out the door, like Scientology eventually drives its followers to make awful science fiction movies. The burgers are also a bit on the pricy side, and although each of us is a resplendent gentleman who often wear a pair of socks only once before burning them and whose craveats are forged from only the finest endangered spider silk, paying $13 for a 1/4 pound burger isn't always our favorite way to spend money.

EXTRA CON: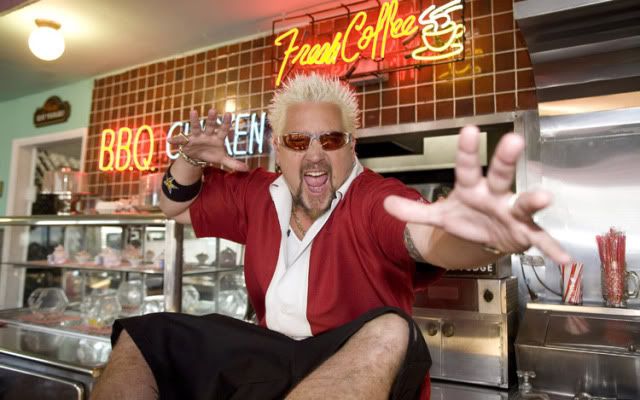 Lord Douchenheim VonDillhole McFartbag (aka Guy Fieri of the Food Network) is perhaps the most popular TV personality to have visited the restaurant, and they are apparently very proud of it - his face is on inserts placed on every table, and they have a TV that replays the segment of his show, "Diners, Drive-Ins and a Douchebag" over and over again. I would prefer a restaurant that, after a visit from Fieri, shuts down for at least five business days to bleach every flat surface and calls in a minister to recite exorcism incantations in order to remove the residue of blond hair dye, armband stink and general DudeBro flatulence.

But, they do offer a burger with a fried egg on top.

Bullshead Restaurant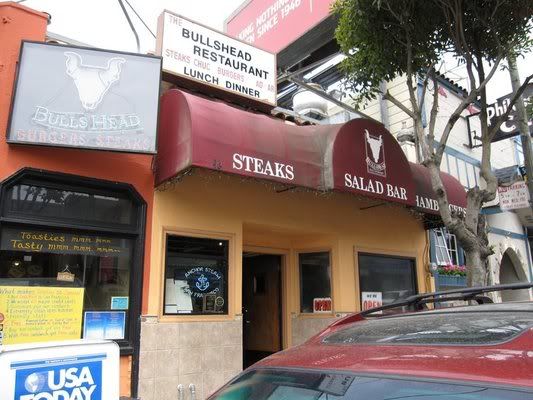 Ever since discussion of this quest began, our own George has been pushing for a visit to the Bullshead. And we have a few sayings about George:

1. If you want to find a good restaurant in San Francisco, ask George.
2. If you wanna play in Texas, you gotta have a fiddle in the band.

I have no idea how the second saying started, but I know the first one is a fact. While mere mortals may deign to stay inside a night or two and cook at home, George uses his kitchen merely for handwashing and whiskey storage. He's lived in San Francisco for nearly 18 centuries, and he's forgotten more meals at the House of Prime Rib than a visiting foodie can imagine.

PROS: George says its good. Their menu looks great, and the price isn't bad, allowing for us to keep a few gold kruggerands in our changepurses before heading to the House of Lords to curry favor.

CONS: It's located way out in West Portal, a neighborhood only intended for peasants, vagabonds and men who stink of salty preserved fish. If I wanted to associate with those surly types, I wouldn't live in a neighborhood that proudly proclaims to be the site of the first strip club in America, home of the $90 4 a.m. illicit lap dance. But they do supposedly make a tasty burger.

Fish and Farm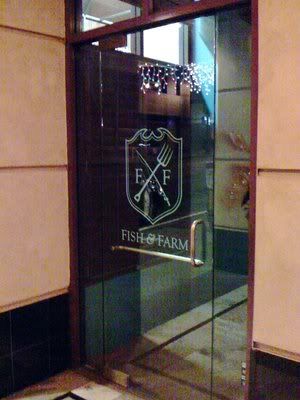 This is the current top of the heap, supposedly - named "7 X 7" Magazine's "Best Burger in San Francisco" for 2009, no burger quest would be complete without eventually taking on this gourmet spot and its own version of beef and bread.

PROS: Other than the current rating as "Best Burger," let me pass along another item on their menu that would kill a diabetic simply by reading them:

Bacon. Tater. TOTS.

This is why gourmet restaurants exist. Whereas a slop joint like Burger King may offer a 9-piece order of Cheesy Tots, filled with grade-F cheese and corrugated cardboard, Fish and Farm went the extra mile and thought, "Let's take an already fatty, generic food and cram it full of bacon."

God bless America.

CONS: I don't know anybody who reads that magazine. I am very suspicious that it may have been created by Fish and Farm, much like casinos in Las Vegas print one magazine a year proclaiming their buffet the best in the city and their nightly show the most amazing entertainment available on the strip, in order to plaster it on posters and flyers. How else can you explain the mind-boggingly sustained run of Danny Gans? Other than the influence of Satan, you can't. And mayhaps Fish and Farm made the same, dark Faustian bargain. And I've read enough Chick Tracts to know that all Satan wants is to make me think Harry Potter is acceptable, Dungeons and Dragons won't condemn my eternal soul to Hell AND that hanging out in places that have deals with the devil is okay. Fool me once, Baby Gap, shame on you. Fool me twice…

And with that, through the magic of internettery, let's see what you think.




Thanks again for reading, everybody. We really do appreciate it.