You Say Umami, We Say Ewwwmarina (or) TRY FOR BURGER POINT OR FACE ULTIMATE DISHONOR!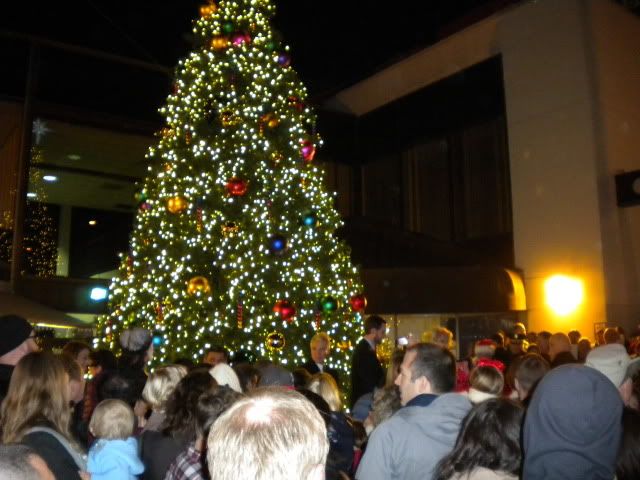 Aloha burgeeteers, and Happy HoliKwanzakrismestivus! Harken over to the meat log, my chilluns (I'm an old black lady now) and I'll spin you a yarn about a delightful red-faced fat man who, once upon a time, swore to spend his days traveling from restaurant to restaurant eating hamburgers and writing about them, until one day many years ago when people were still wearing wooden shoes and overalls were fashionable, he ate at a place and then never wrote about it, because the President called and told him he needed to drink all the whiskey in the city before a terrorist could poison it. 

At least, that's the story I intend to stick with. You see, lo these many years past, your favorite burger-eating crew pulled up our bloomers early one morn, chugged a few cups of coffee and prancer and vixen'd our way into the Marina neighborhood to sample the wares of a joint called "Joe's American." Unfortunately, while Joe may have been proud to be an American (cuz at least he knows he's free!) he wasn't hawking burgers that made us stand up and salute. Frankly, it was pretty mediocre and in lieu of writing up that review, I opted to spend my time catching up on "Breaking Bad" on Netflix and searching for the hottest Filipino ladyboy in town instead.

Before you know it, Joe's American had been transformed into Joe's Empty Space, more than likely the candidate for yet another coffee shop, because for a minute there you could almost walk an entire block on that side of the street and not purchase a Pumpkin Spice Latte. The coffee gods will not allow it! But before Lord Javacus of Mount Caffeine could wave his wand and make that happen, the location became the target of another burger joint - this one already proven in the far-off land of Los Angeles, home of the neon porkpie hat and a short skirt for every skinny girl without a soul.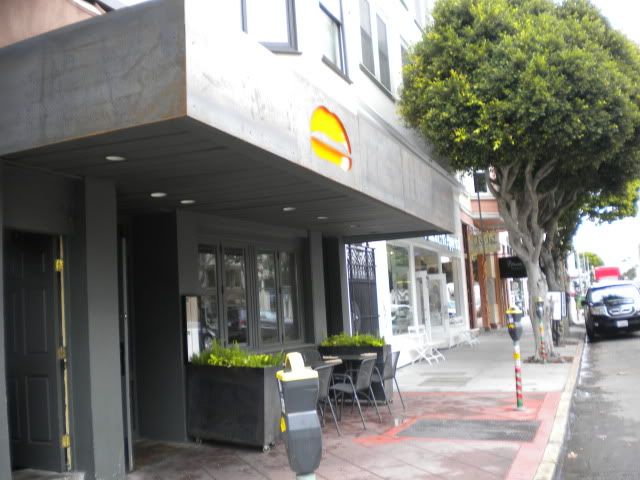 Umami Burger opened in the southland (that's what we kewl Californians call L.A., bros) and was quickly showered with praise from the burger community, including such Metro-inclined magazines as "GQ" and "Expensive Tight Pants and Shoes Monthly." And after Joe's American found its way into Restaurant Heaven, Umami set their sights firmly on their former Marina location on Union Street. So, does the highly-hyped burger from the hypiest city in hypey-land meet expectations, or are they a one-hit wonder that years from now, you'll hear somebody mention and think, "gosh, I remember that. Why did we think that was good? We were so dumb back then. Welp, back to fighting death-robots." Read on, my friends. All shall be revealed. 

It should be noted that the restaurant's name is taken from a Japanese term meaning a "pleasant and savory taste." It does take some mega-nerve, and more than likely a few years of living in Los Angeles, to give your burger restaurant that name, and I can only imagine it was conjured up in a circle of bro-dawgs, all clad in deep-V t-shirts and meaningless leather wristbands. But the burgers shall speak for themselves. 


We all arrived eager to give Umami Burger a shot, as well as excited to start work on a project we're not ready to talk about yet. But in atypical Burger Blog fashion, we'd actually planned this trip out pretty far in advance, meaning everybody had a good chance to hunt over the menu online and make their selection. And wouldn't you know it, Fancypants Fauntleroy himself, George, had a problem. Before I say this, keep in mind that George was only days away from jetting off to Paris for a few days of sipping wine, sampling foie gras and debating between steak au poivre or coq au vin for dinner.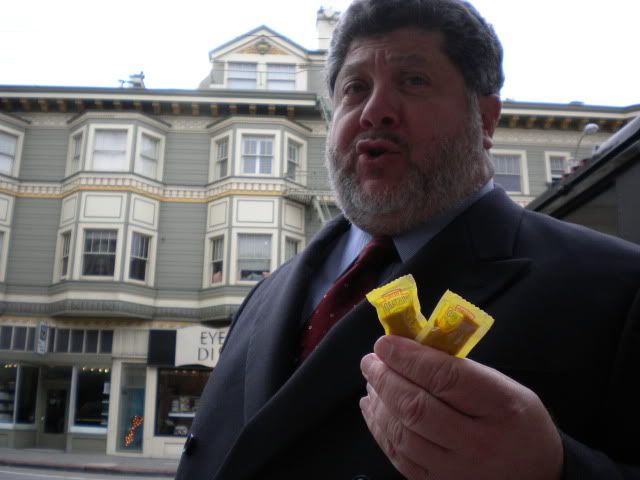 You see, Umami Burger makes all of their ingredients in-house, including their mustard. George, having grown up in a time when men wore hats and kissed dames on the street after Uncle Sam gave the Kaiser the 'ol heave-ho, doesn't want his burgers with any fancy-schmancy girly mustard. After reading about Umami's specialty sauces and recipes, prior to the restaurant visit George found his way into a diner and grabbed a few packets of the old-schooliest, most generic yellow mustard he could find. When George sets his mind to something, he will not be dissuaded. Enjoy the sole meuniere, George.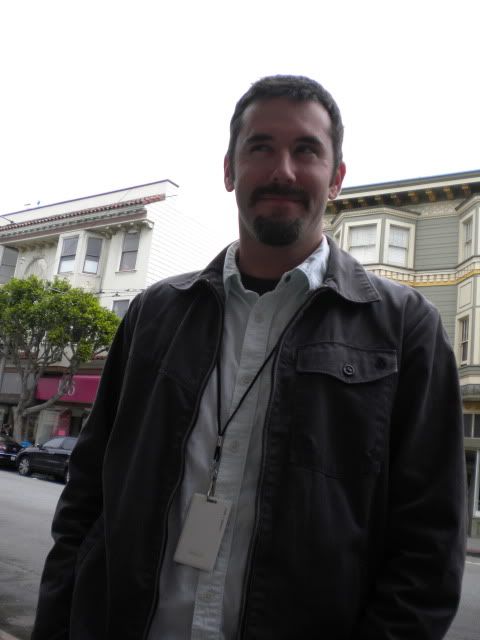 Another note - as part of Movember, Joe grew himself a 'stache. While not nearly as firey-red or radical as my prior facial growth, I think we can all appreciate that if the Burger Blog were an episode of Star Trek, Joe would be preparing to sabotage Captain Kirk any minute now. In fact, I hadn't seen him since our last burger run, and therefore when he walked up it was like confronting Evil Joe. He quickly slapped a woman on the butt and told her he liked that she was "keeping it tight."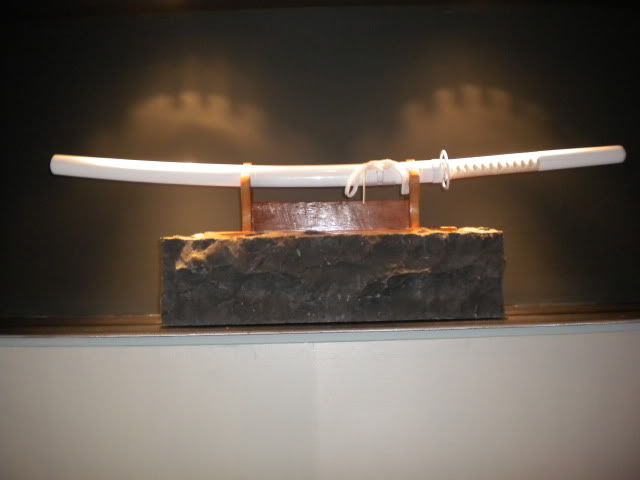 Umami Burger has also made some decorating changes to the location, including adding a sword to the wall. As a firm believer in the upcoming zombie apocalypse, I heartily endorse the ready availability of swords and enjoy knowing where as many of them can be located as possible. The rest of the place has been altered to be a bit more dark and cozy than it had been before, with a fair amount of seating and some spots at the bar right when you walk in, if you don't want to be more than a few inches away from a person who can pour you drinks. 

Umami's menu is on the simple side, although the names of the specialty burgers can make your head spin a bit. They get high points for calling one burger the "Manly Burger," even if it doesn't come with a picture of Chuck Norris giving you a thumbs-up. However, I'm still a little baffled by the "Port & Stilton" burger, which sounds like something a fop in the streets of 1910 London would say to you if you asked where a chap might locate a finely-tailored derby, god save the queen and all that.
As we all perused and attempted to make our selections, the most vocally wary of Umami's menu was definitely George - they don't really offer a plain-old burger the way he likes it. But, before he could get all Whiney McWhine, The Whiniest Whiner in all of Whineytown about it, we ordered up some of Umami Burger's sides to enjoy.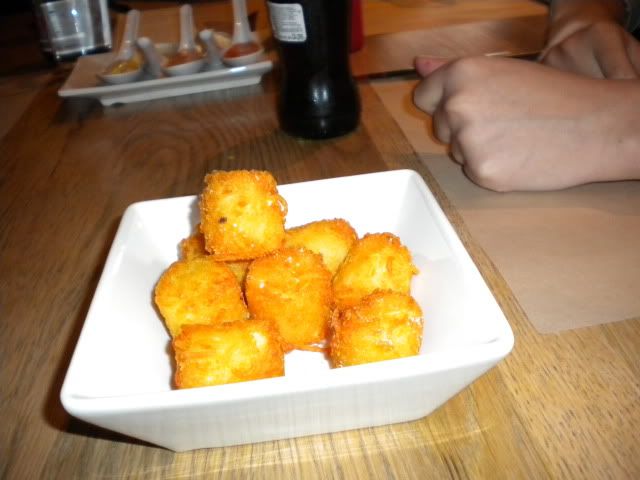 Umami's cheesy tater tots had been the source of much hype prior to our visit, most especially because, in an effort to be extra-trendyriffic they're *gasp!* not even on the menu. We were told it's because they always run out before the end of the day, but when we started ordering our other sides our waitress was quick to ask, "how about some cheesy tater tots?" I guess if you're a hillbilly wandering in off the pickup truck with grandma Bessie, Billy Joe Jon Jim and your pet raccoon Miley, they take one look at you and decide your plebian butt isn't ready for the splenderific delights their cheesy tots offer, so take your muskrat-eating mouth and however many teeth you have left and wander over to the nearest boiled fish place, chump. But we'd all worn our best finery and managed to hold in (most) of our farts, and were thus judged worthy.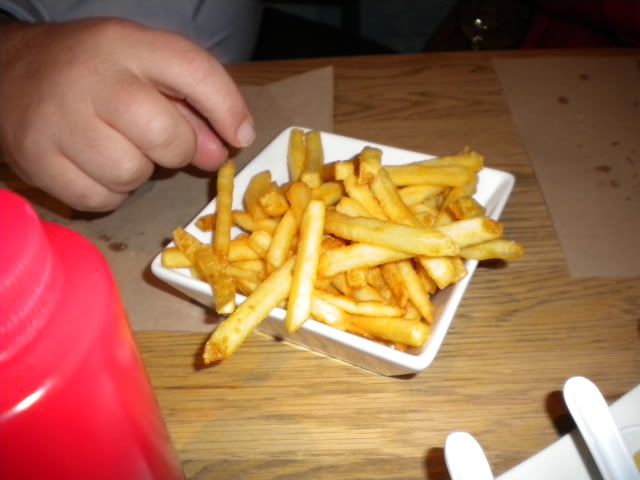 We also got an order of regular fries and some onion rings, the way mother nature intended. The portions are definitely more in order with a single person, or maybe a pair, or if you're the typical lady who lives in the Marina, a whole week's worth of post-yoga snacking, like ohmygod!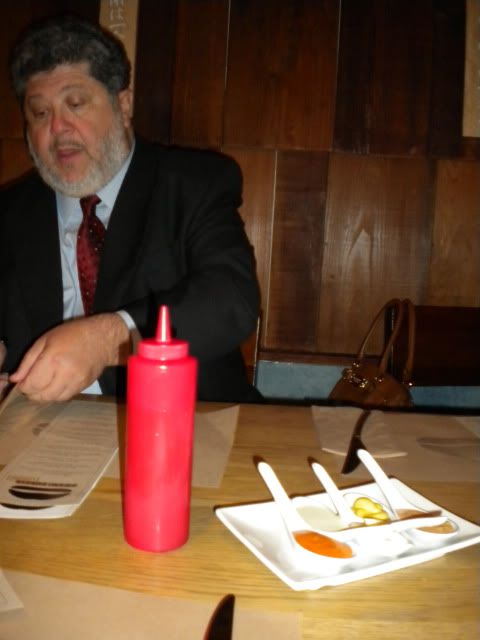 Also making an appearance at this point - and free of charge, I'd like to add - was Umami Burger's specialty condiments. They include Umami Ketchup, the aforementioned and terrifying Dijon Mustard that George had no intention of sampling, Umami's House Spread, a Roasted Garlic Aioli and Jalapeno Ranch, two great flavors that ensure that yes, you WILL know regret today. The sauces got pretty high marks all around as everybody dipped their fried goodies into them, and Joe noted that it was a classy move that they showed up free, unlike another recently reviewed location that charges for dipping sauces. Hook a brother up, Super Duper!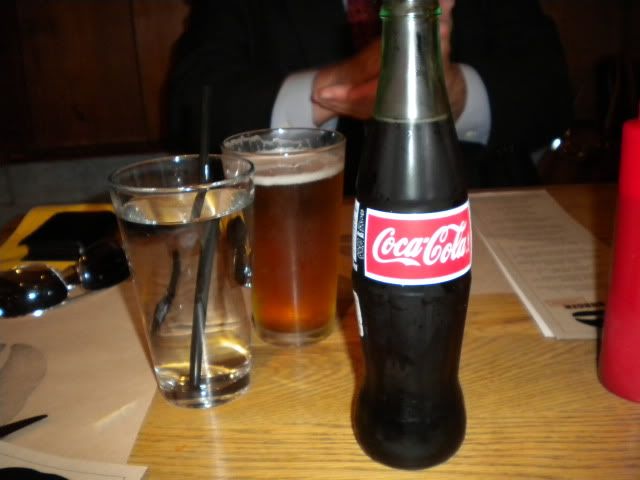 Umami Burger also offers a decent selection of beers and if you prefer American champagne, their Coca-Cola products are the Mexican variety. This means that they fled their homeland years ago to find their way into America, where they now work hard everyday to provide for their families. Also, they contain real sugar instead of that other stuff. Umami also has something called Zenify on their menu, which they claim is an "All-natural calmness drink." Needless to say, nobody tried it. We're already full of calmness, goddammit, now shut up before we shut you up. 

Without any further ado-ing, affix your Super Happy Burger Fun Helmets, assume the Stance of Multiple Joy-Joys and paint that fence, 'cause here comes the burgers. SUCCESSFUL TRY!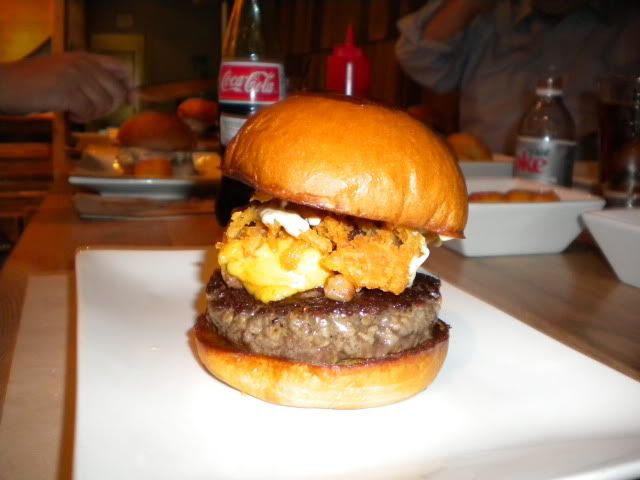 Both Chris and Domingo opted to get the Manly Burger, with beer-cheddar cheese, smoked salt-onion strings, bacon lardons and ketchup and mustard. Every Umami patty is a 6-ounce slab that Umami does indeed grind themselves at their locations. We do commend them for grinding their own meat, however while nowhere near shabby a six-ounce patty isn't what I'd call "manly." But I suppose the addition of something called "bacon lardon" does up the ass-kickery a bit.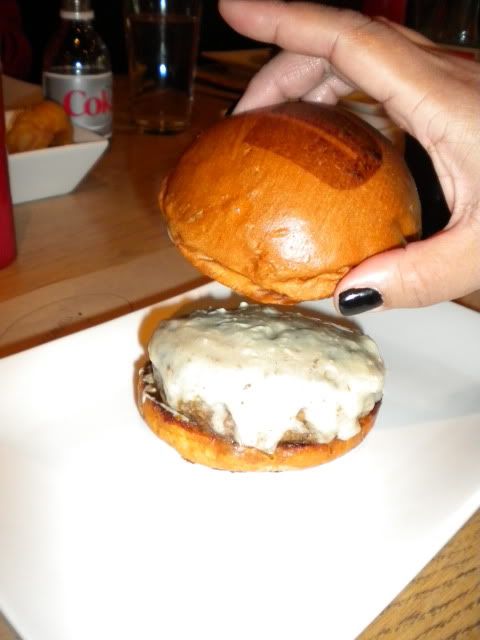 Leila - who as you can see by the black nail polish is going through a goth phase right now, because you're all too mainstream and laaaame, maaaan - put a pinky in the air and ordered up the Truffle Burger, which comes topped with house-made truffle cheese and a truffle glaze. As you can see from the above, Umami sends out each burger emblazoned with a "U" on the top of the bun - which they also make themselves. The buns are said to be "Portuguese-style," which I can't say is totally accurate because my only experience with the Portuguese is a knife fight in Mexico City. And he deserved it, the bastard. The buns are also sweetened with milk and honey, which I'm sure is a line from a John Cougar Mellencamp song that takes place near a Tastee Freeze.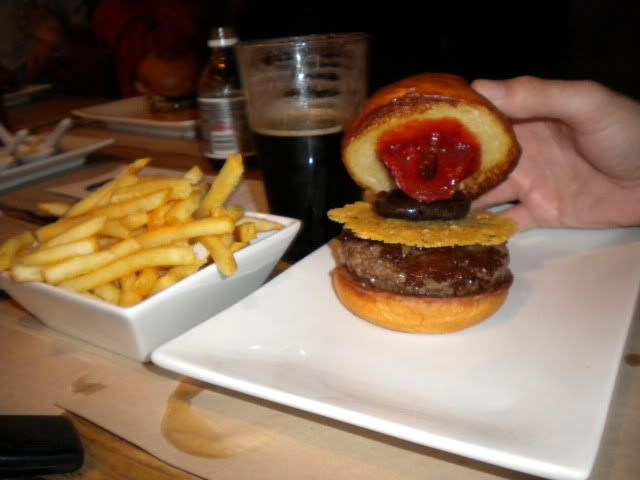 Bizarro Joe stared out a large window for a while, twirled his mustache contemplatively, leaned his head back and let out a devilish laugh and then demanded they bring him the Kombu Meal #1, immediately, or face his wrath! Umami offers three Kombu Meals, which include a burger, a side and some sort of alcohol that the restaurant thinks pairs nicely with the meat and fried treats. In Joe's case, this meant an Anchor Steam beer. He allowed them to live this time, but next time they might not be so lucky. The Umami comes with shiitake mushrooms, caramelized onions, roasted tomato, a parmesan crisp and the Umami ketchup.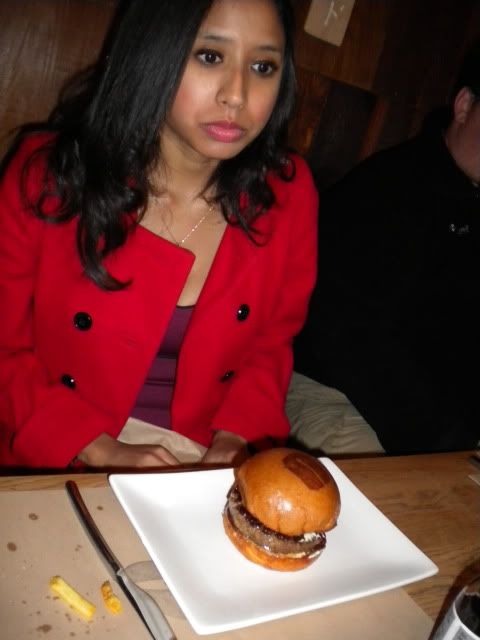 The burger that has Erica so excited is the Hatch Burger, topped with roasted green chilies, and house-made American cheese. In addition to being ground on-site daily, Umami also uses an all-natural Niman Ranch wagyu-angus beef (which does sound fancy!) that they then coat in something called "Umami Dust." I think that was popular in the 80's with stockbrokers. 


Your always humble narrator got one of Umami's specials for the day, called the Oxtail Burger - their typical patty topped with some cheese and some further pulled-beefy treats on top. Seen above, I paired it initially with a lone tot and onion ring, which is my own attempt at Feng-Shui'ing my food. A busy mind cannot ease the soul, or something like that.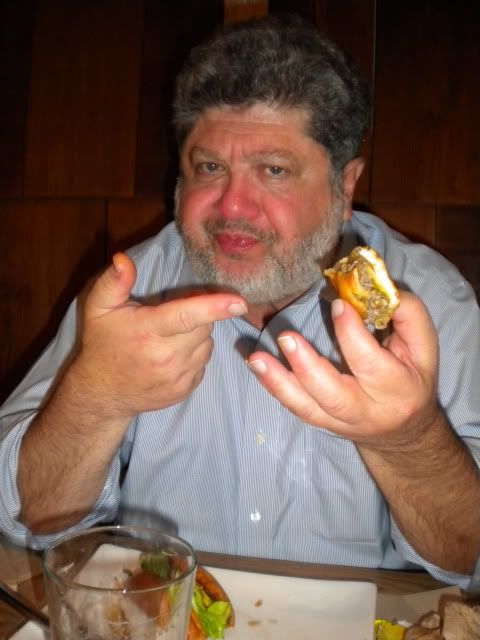 George did as much as possible to get his standard, patty-medium-rare, a few veggies and nothing else, and he did indeed take every packet of mustard he brought to the top of it. And if you can't read George's emotions, no, he wasn't very happy. In fact, the whole experience quickly divided us. Was it possible? Was a burger joint that entered into our universe with heaps of acclaim not going to live up to its reputation? Onward, to our review points! 

Thunderclap From Clear Sky: Burger Quality Points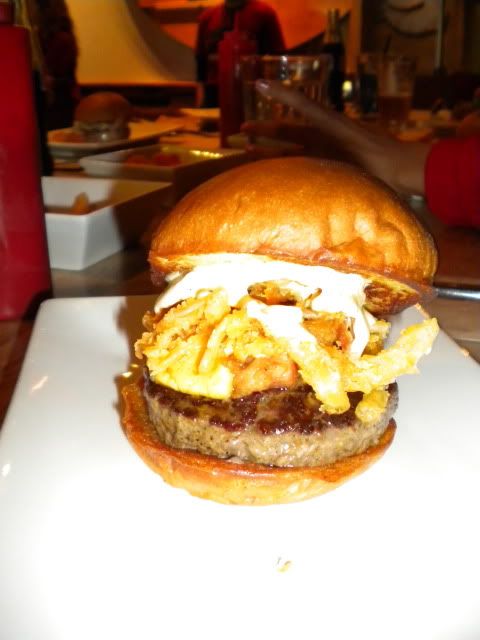 No question about it, Umami Burger is serving up some pretty-looking burgers. They clearly have been keeping themselves hydrated, plenty of rest and lots of time up in the gym, working on their fitness, just so when the big night comes they can go out and wear that perfect little black dress. And while I have no idea what Wagyu-angus beef is, I assume it must come from a cow that has achieved the Wisdom of a Thousand Centuries prior to being butchered, ground up and served on a bun with a big "U" on it. As always, we heartily endorse the grinding of the beef daily and in-house. 

But many of us were quickly amazed at how greasy the things were. We certainly aren't averse to grease, but quite a few of the crew found their buns disintegrating under the greasy powers of these burgers. Joe was still quite fond of his Umami Burger, and I'm quite certain that the addition of the extra meat on my burger helped to keep it together, unlike some of the others.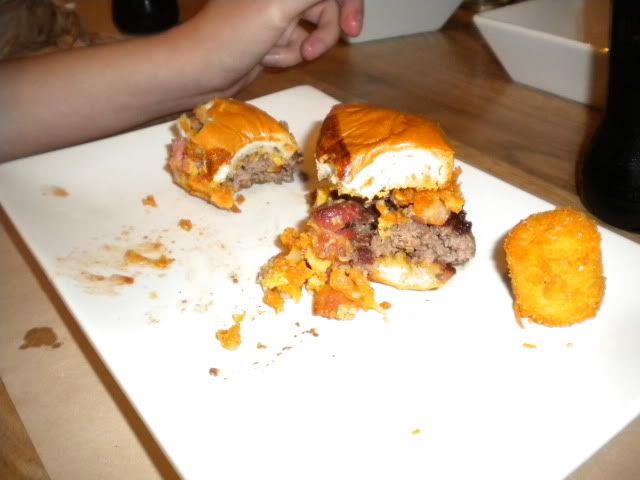 If you're the type who pounds down a burger hard, you might fare better but lots of us were a little surprised at how difficult they became to eat. They're definitely the type of burger you'll need to lean over deep for and position yourself and your clothing far away from any possible debris, because it's coming, brother. Get in the zone and become hard like Hanzo steel, for this will require all your concentration. 

Luck Exists In The Leftovers: Final Meat Score -  7 Wisps Of Dust out of 10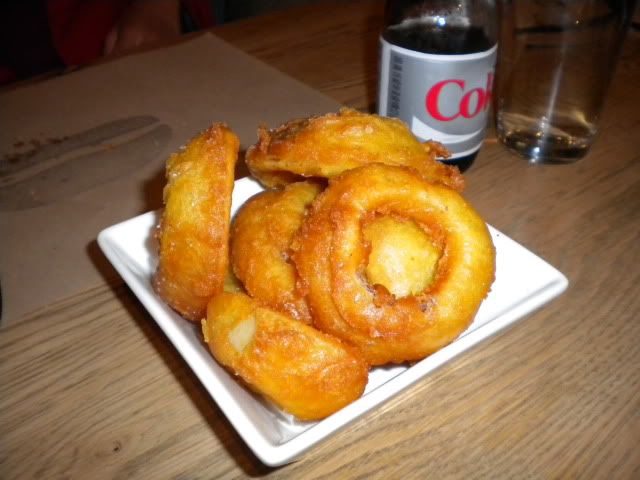 After The Rain, Earth Hardens: Sides Score - Umami offers up a pretty healthy offering of side dishes, but even if you order up a combo meal - sorry, Kombu Meal - you're going to be forking over some extra bucks for it. We tried the thin fries, Tempura onion rings and the not-on-the-menu, only-for-the-cool-kids cheesy tater tots, but they also have a market salad, sweet potato fries or a thing called Smush Potatoes available, which are described as "fried dutch yellow creamers." Frankly, I'm part Dutch and grew up in Western Michigan, home of Dutch Judgement and a Bar Next To Every Church!, and I have no idea what that means. All of these sides will run you between $3.50 to $7 bucks for a Caprese salad, and if you want to try their house-made pickles be ready to fork over a fiver. 

As for the quality of the sides, we all found ourselves pretty firmly entrenched in the middle for them. The thin fries were decent but nothing to commit seppuku over, the onion rings weren't too shabby but may have been a bit too battered for some of us (I liked 'em) and the cheesy tots turned out to be nothing but all right. They were kind of like a modern Radiohead record - yeah, I know I'm supposed to like it, but we just couldn't bring ourselves to care that much. The supposed cheesiness wasn't very apparent, and that left all of us a bit bewildered. If they had just called them tater tots we probably wouldn't have minded, but the lack of much gooey cheese flavor made us turn like when you found out Beck was a Scientologist. So long, and thanks for the memories, I hope Xenu buys records. 

Scattered Clouds, Disappearing Mist: Final Sides Score - 6 perfect blossoms out of 10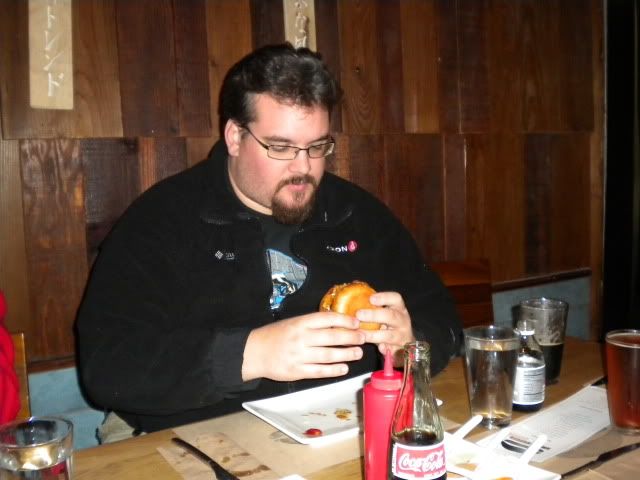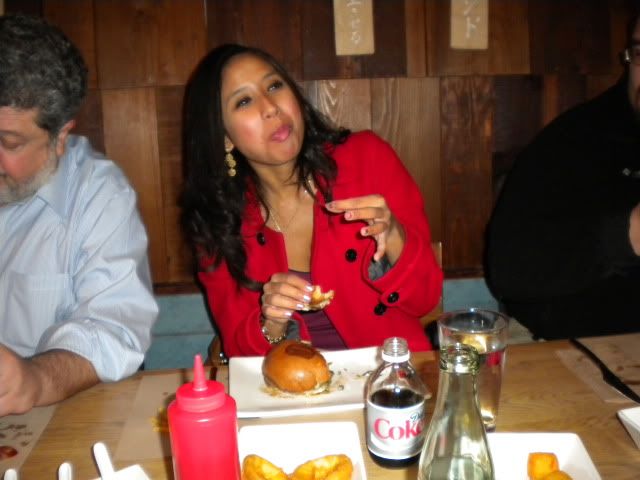 Even Monkeys Fall From Trees: What Happens Afterwards - So, it's a 6-ounce patty of quality Niman Ranch beef, sprinkled with magical fairy dust that gives it three wishes, so how do you feel after you eat it? Will you finally turn into a real boy? 

Honestly, we all felt pretty darn good. While all of us often find ourselves stuffed and uncomfortable after a burger trip, nobody had any complaints, except that maybe we were going to be hungry again a lot sooner than usual. There are some burger trips where members won't eat again for up to eight hours, and sometimes not even until the next day at breakfast (we're usually reviewing at lunch time) but not only did everybody finish their burgers, most of us were already talking about how we'd definitely be ready for dinner later.

Now, this should be a relatively good thing for a lunch trip - except that it didn't cost us what an average lunch seems like it should. Even splitting the sides up and not hitting the hooch too hard - a difficult feat for us - the final tab added up pretty fast for a group of seven. Even with a Kombu or sharing sides, don't expect to walk out of Umami for less than $20, probably more after you throw down a tip because you're a decent human being. If anything, realizing that this was definitely one of our more expensive trips left a worse feeling in our tum-tums than the food.

Wake From Death And Return To Life: Final Aftermath Score - You'll feel fine, especially if somebody else pays. 7 drunken salary men out of 10.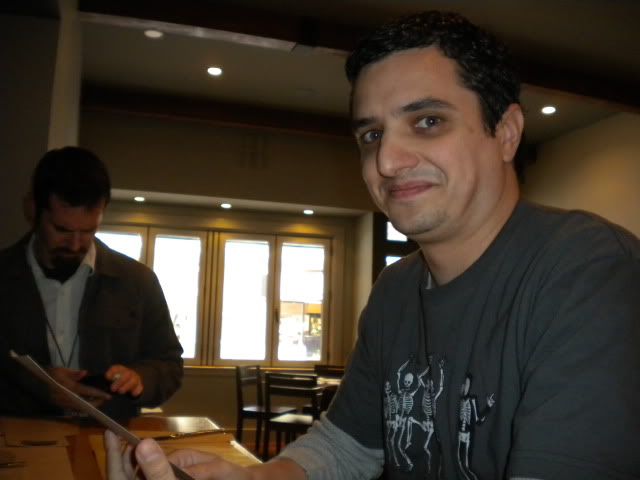 So, really, should you give Umami Burger a try? First you have to venture into San Francisco's hoitiest of toity neighborhoods, the Marina. Then you had better be ready to pay well for the experience. But if you're a hardcore burgerphile, you're most likely already planning your trip, if you haven't been already. 

As for our crew, Joe stands pretty alone as being a firm believer in Umami Burger, while the rest of us could take it or leave it. The high cost made all of us shudder a bit, even though we're all big time ballers who roll on dubs. See, I'm so rich I can say that and have no idea whatsoever what it means!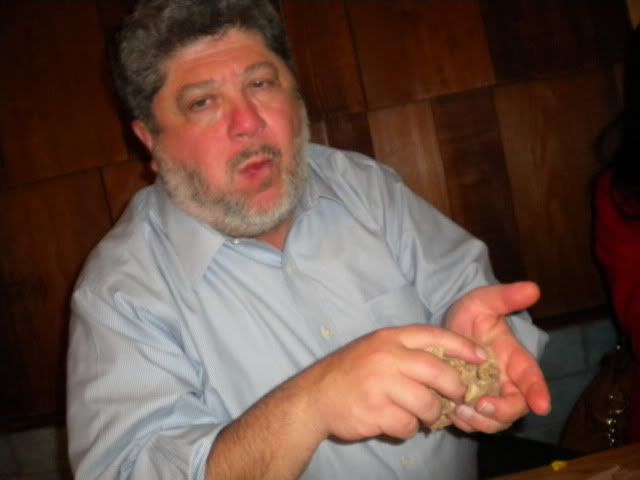 So, while we applaud Umami's practice of making everything themselves with fresh ingredients, most of us weren't blown away by the experience and probably won't be placing it into our upper echelons of burgerdom. And frankly, I don't think if Umami Burger were in any other neighborhood in the city, they'd be getting nearly the hype or crowds that they are right now. The Marina is filled with people who are more than happy to make a scene for anything that's sceneriffic and pre-approved by the Cool Police, making it a perfect stop for a burger restaurant that's been making dude-bro's and lady-dudes very happy prior to standing in line at a club to get $500 bottle service and spend the night texting people they're not with. If Umami opened in the Mission the only thing in front of their storefront would be cigarette butts, smoked by tight-pantsed hipsters after they finish their burrito from a nearby taqueria, purchased for six bucks in between rounds of PBR. 

If you're a purist and hunting for all the burgers the city has to offer, I'd urge you to plan a visit during the daytime, away from the nightlife crowds and judge for yourself. But plan ahead, as you're definitely spending more than a typical burger would cost you.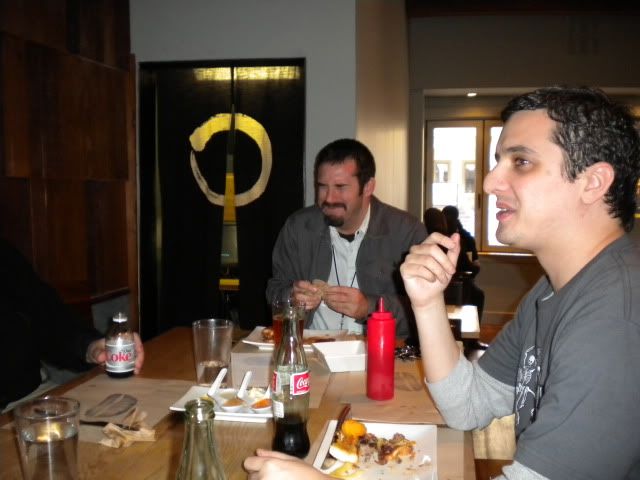 And with that, we must bid you adieu, burger lovers. We'll be back as soon as our little legs can carry us, but in the meantime thanks - as always - for following us, and may your holiday season be chock-filled with expensive gifts you don't really need, plenty of liquor and that one family member you hate gets stuck in a snowstorm.  Number one burger review finished with ultimate power! Super Punch! See ya later.