Two Men On A Scooter Ride Into A Mexican Restauranto


There are a few things one thinks of specifically when you think of San Francisco's historic North Beach neighborhood.

If you're a literary buff, you think of City Lights Bookstore, where modern-day wannabe poets imagine what it was like to be Allen Ginsburg and read dirty poems to strangers while they look at a poster of you naked. If you're a dude-bro, you think about all the bars you can bro down with your bro's at, before you bro over to the strip clubs on Broadway and tip dancers until you're bro'ke. If you're a stripper, you think of all the drunken tourists and Asian businessmen who huff watered-down whiskey fumes at you while they tell you how pretty you are on the glamorous Wednesday afternoon shift. 

But it's highly unlikely that you think of North Beach as a tip-top burger destination, especially in a Mexican-themed restaurant. But it's adventures like that which make the world go 'round, and since our last North Beach burger bonanza didn't go so hot - looking at you, Burgermeister - it was going to take something special to get us back into the 'hood and ready for a burger. 




North Beach is always an entertaining place to hang out, regardless. The above was taken at our parking garage, which adorned the spaces with helpful little hippie-dippy sayings, such as "A secret may be kept a secret by not telling that it is a secret." If you don't get that, you're a total square, man, time to expand your mind by spending a few years growing goatees and writing pretentious scribbles into a Moleskine.


 

Joining us for his very first inaugural run into the burger depths was our associate, raconteur and gentleman spy Domingo. He had long wanted to sample a burgerventure with us, but his duties with the church prevented it. Having been excommunicated (a complete misunderstanding, he tells us) he was finally free to join us.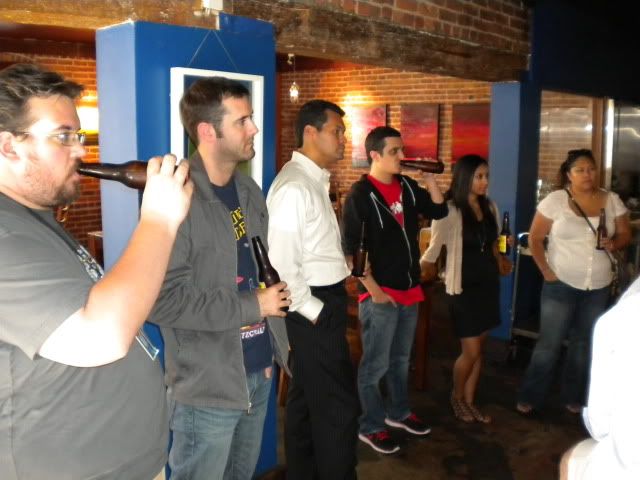 Our destination was Mexican hot spot Don Pisto's, and the first order of business was owner Pete Mrabe pouring beer down our throats. And boy, did we put up a fight. Pete opened the place about two years ago and has carved out quite a niche for himself, serving tasty cuisine to packed houses and serving specialty drinks in the meanwhile.  
Speaking of specialty drinks, after a beer or so somebody (it may have been me - well, it probably was me) asked about tequila. Don Pisto's doesn't actually serve tequila, but they do have a specialty cocktail called the Lamborghini Margarita, which Pete himself served up and we all enjoyed. 


They use an entire bottle of liquor for every pitcher of the things, and nobody was complaining about the lack of tequila, even though some of us had intended to end the night in a knife fight in the dirty basement of a grocery store. 
The place is also bigger than it looks, including a basement dining area that features one of my favorite paintings ever: 
After a few of the Lamborghini margaritas, I could see beginning to gaze upon the above donkey as my new god. Even Moses wouldn't find a problem with that after he hoofed his Jesus-creepers down the mountain and got handed a pitcher containing an entire bottle of booze.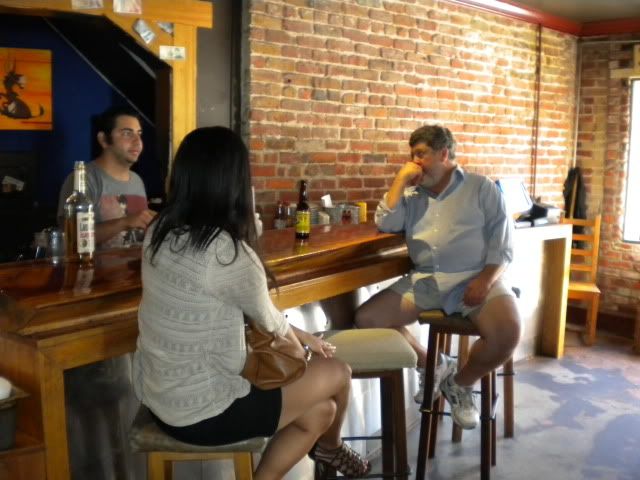 So, we all mingled and enjoyed a few beverages, along with fresh chips and salsa, and after some of us got to the point of shameful intoxication (mostly James) we agreed it was time to fire up the grill. 
Rumor had it that Don Pisto's burger was a special treat, and Pete clued us into his method: the meat gets ground fresh daily, and then marinated in bacon before they cook it. Yes - BACON marinade. The look on our faces when he told us let Pete know that he probably didn't need to spend the previous forty minutes pouring liquor down our throats. But we still appreciate it.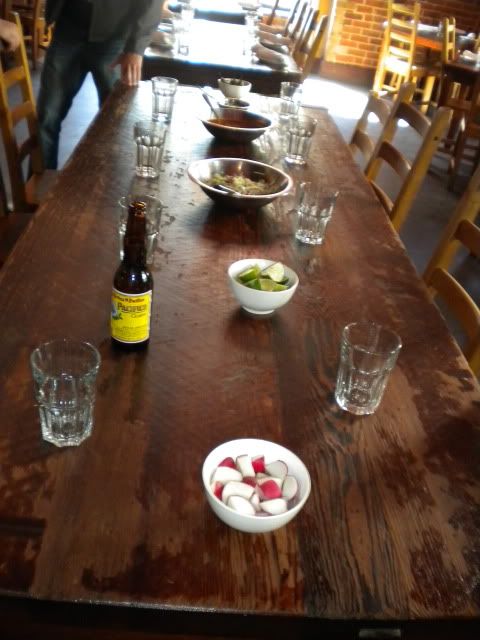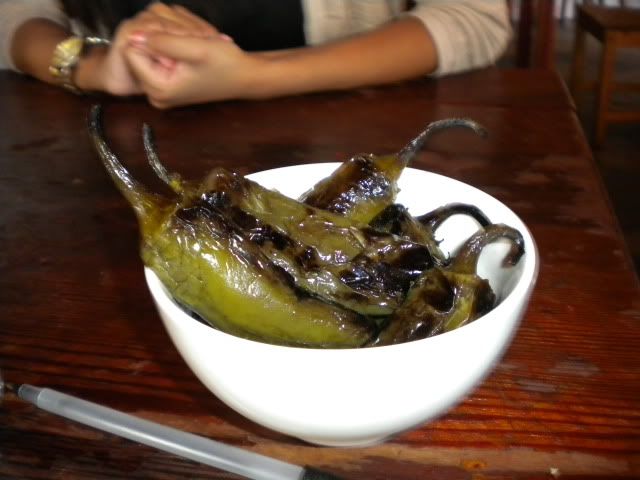 Pete had also set aside a table for us, complete with a few of their signature side dishes, including the above pickled peppers. We all quickly acted as though it was a test of manhood to try them…


…but they were more tasty than anything. As a result, we had to resort to our favorite manhood game, that thing where you try to stab a knife between your fingers on a table. That game is why these blogs now take so long. 

Now, we're told that Don Pisto's has one waiter in particular who is notoriously popular with the ladies, so much so that many of his tables walk away leaving a mess of phone numbers on napkins behind, in the hopes that after his shift he enjoys touring from apartment to apartment, alternating from serving hot, delicious food to sweet, authentic Mexican lovemaking. However, he was away that day, so we had to settle for San Francisco's second most eligible bachelor:
It's not often that one finds George on the serving side of food. Most of the restaurants in his neighborhood call him "Here Comes That Guy Again." But George was so excited to have us try the Don Pisto burger he started serving them up. 


It was a sight to behold, for sure. But then we started focusing on the burgers. Put all your illicit powders under the seat and get out your passport, because here comes the border patrol of food porn. 
Now, we typically show you our burgers in a roundabout way of letting you take a look at all of our varied selections, from George's usual plain-old-timey burger to whatever we can find that includes a fried egg on top of a ham steak and slathered in cheese. But Don Pisto's does one burger, and one burger only. But remember -  THEY MARINATE IT IN BACON. 
Each burger is cooked medium-rare to medium-ish, and that is also not up for debate. If you ask for it done well, they will laugh in your face. Well, probably not, but this whole policy is one that we fully endorse. Whenever I see somebody order a burger cooked more than medium I wonder why they even bothered to leave the house, when they likely have plenty of old shoes sitting at home they could drown in ketchup? 
The burger's typical topping is Don Pisto's fresh guacamole, which was very tasty. So tasty, in fact, that Domingo didn't mind it, even though he later revealed that he isn't a fan, after which every single one of his ancestors started turning over in their graves. Then Domingo told us that he once stabbed a man at a cockfight, and they stopped turning. He still follows tradition. 


They did provide us with a few extra toppings, include a spicy red sauce and some crunchy coleslaw, both of which got rave reviews, although it should be noted that they're not readily available. 
And thus, the digging in began. Another note on the burgers - Don Pisto's gets their buns specially made from a nearby bakery, and these babies hold up to this bacon monster quite well. They also toss them on the grill for a quick toast prior to having the patty placed on it. 


Another note: Don Pisto's doesn't serve fries, onion rings or any of the other usual fried goodies we typically throw down our throats on these binge runs. Chips and guacamole are the only options, but after a few bites of these things nobody was complaining. 

The Don Pisto burger was immediately greeted by the moans and groans one would usually only hear at an orgy in the 70's or around a television showing Fox News in a room filled with people who enjoy facts. Everybody was amazed at how flavorful the thing was, and people's eyes started rolling into the back of their heads. Anybody walking by the nearby open window probably thought they'd strayed past a cadre of jazz cats going after Maxwell's Silver Hammer. And anybody who gets this reference has lived, man. 


The burger was definitely cooked to a perfect medium-rare, and while the bacon definitely played a big role in the flavor you can still make out the high quality of the beef inside. The benefits of grinding the meat fresh and daily once again shine through. And it is a half-pounder, so if you're still worried about not having fries, onion rings, jalapeno poppers or fried bloomin' ranch mozzarella explodin' fingers, have no fear: nobody walked out hungry. 

Now, typically we go through a whole list of criteria and review points, but since Don Pisto's is a specialty we're going to keep it more basic this time around. We're going to hit a couple of points and leave it at that. 

Yo Soy Es Beefachacho: Burger Score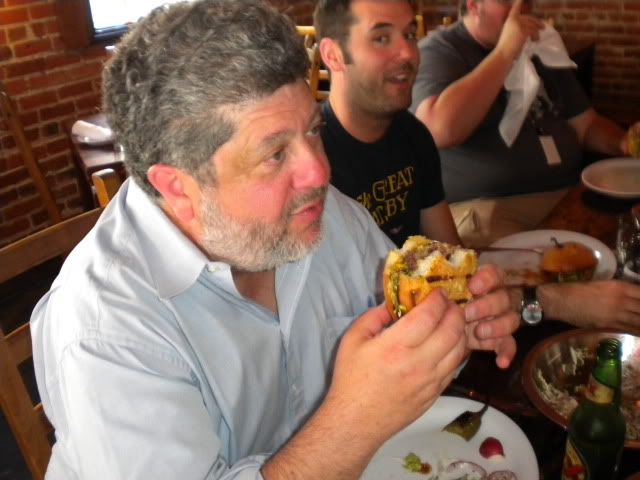 In the theme of keeping things simple, Don Pisto's served up a burger that quickly found a place in the tippy-top of our list and was many of the member's favorites. Chris said the first bite knocked him out of his chair. George said it's the most flavorful he's ever had, and since Grandpa Georgie usually just wants a patty on a bun for the sweet, meaty pleasure of it, you know he means it. 

 
Domingo said that he might have to quit after his first outing, since he couldn't imagine a better burger than this ever coming his way again. And before we allowed him in we forced him to eat the entire Pearl's Deluxe menu in one sitting. 
James said it was tied with his choice for first place ever, the Bullshead, and although most of the terribly racist things he said that day were because of the liquor, I have to assume the positive stuff was some of the last good things coming out of his doomed soul. 

Final Burger Score: 10 out of 10.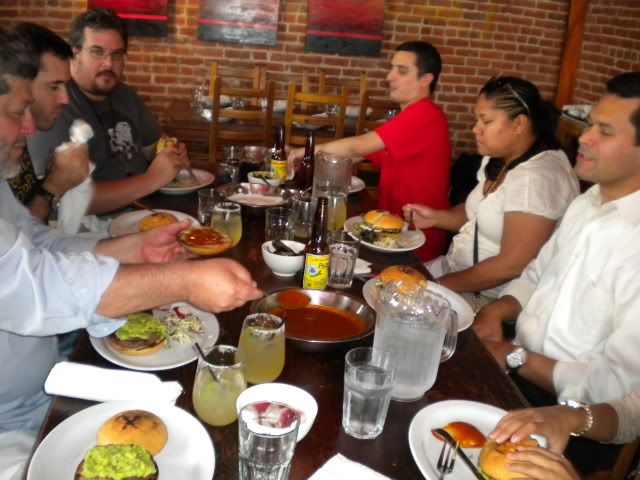 Don Pisto's was one of our group's most satisfying burger experiences, and that was even without any specialty burger menus or the chance to order a large plate of french fries topped with melted cheese and sausage. All of us were so impressed we started perusing the menu, curious to see what else they offer. 

Some highlights? A lobster burrito, specialty al pastor tacos, and did I mention you can get a pitcher of margarita with a whole bottle of liquor in it? Whether you're a burger fan or just enjoy drinking and eating Mexican food, check out Don Pisto's. Pete says their Sunday brunch is especially popular, so show up early and spend your Sunday being a heathen.

The food was so good, in fact, that even though George lives only a short distance away he couldn't make it there on his own power. So he had to turn to Joe, who came via scooter. Not only did we get to enjoy the sight, people driving by slowed down to witness the following…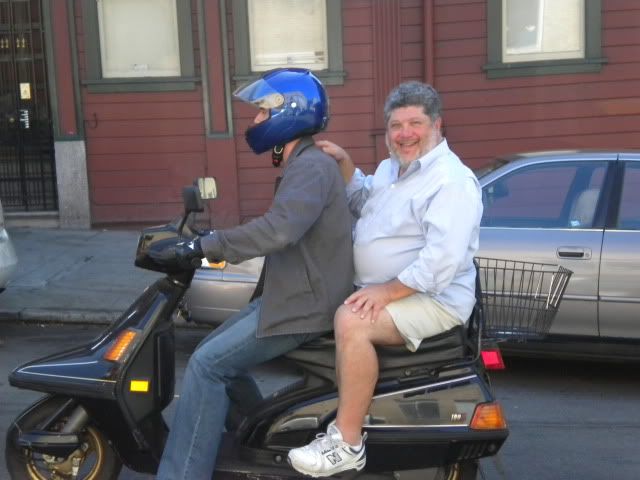 Every man wants to ride his bike around town with a sexy pair of legs on the back, but Joe really got the best of the best on that afternoon. 

With that, we bid adieu to another entry. Thanks to hanging in with us and stay tuned for further burger action!